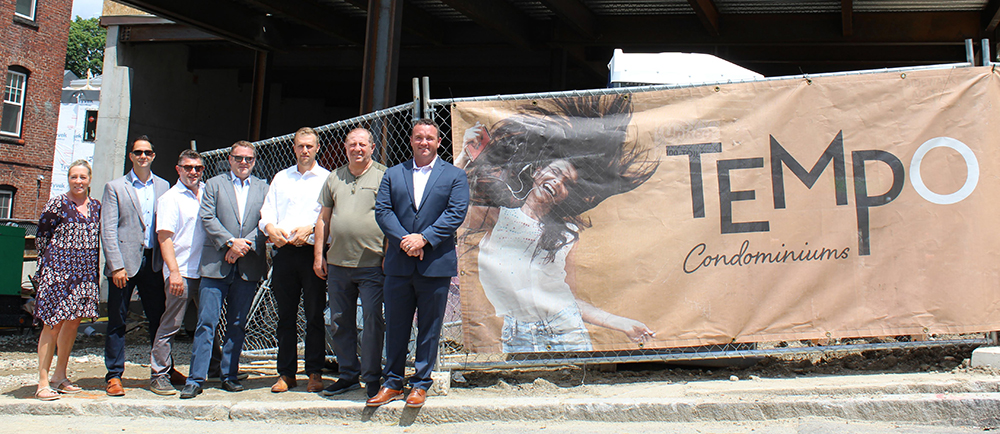 Jamaica Plain, MA City Realty Group celebrated the groundbreaking on TEMPO Condominiums, located at 3193 Washington St. TEMPO features 39 homes and retail space. TEMPO provides needed home ownership opportunities in the desirable neighborhood. The five-story building will total 45,605 s/f, with 31,365 s/f of net living space and available units ranging from studio to three-bedrooms. The studio units range from 495-615 s/f, one-bedroom units from 585-680 s/f, two-bedroom units from 785-985 s/f, two-bedrooms plus a study are 940 s/f, and three-bedroom condos will measure 955-1,305 s/f. Retail units range from 1,050-1,105 s/f. All retail space will be marketed with a preference for local small businesses.
TEMPO is located near the MTBA's Orange Line. The stylish, pet-friendly condos are thoughtfully designed to fit the modern lifestyle. Amenities include: Automated garage parking, pet wash station, bike storage and private outdoor space. Construction is expected to be completed by March 2020.
"TEMPO combines a fresh approach to urban living, with unmatched neighborhood amenities," said Steve Whalen, managing partner of City Realty Group. "We are proud to bring much-needed home ownership options to the wonderfully diverse and vibrant community of Jamaica Plain."
New Boston Builders will construct TEMPO, which was designed by Embarc Studio. Units will be exclusively marketed by Boston Realty Advisors/Advisors Living.