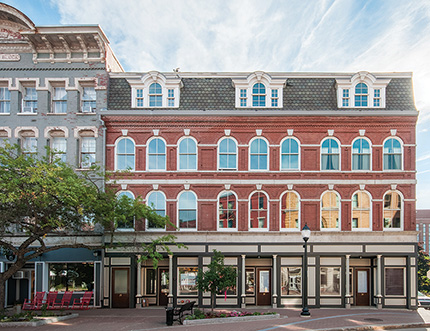 Bangor, ME According to Colliers International, NMS 28 Broad Street, LLC has purchased 28 Broad St. Lofts, the luxury apartment building from Broad Street, LLC for $3.3 million.
The four-story, turn-of-the-century property in the downtown is considered one of the city's premier residential buildings. It features 18 custom units with amenities. In 2015, developers invested $1.6 million over two years to renovate the former Dakin Sporting Goods building. The first units opened in spring 2016 and the building quickly became fully occupied. For the previous owner, New Hampshire-based Broad Street, LLC, the model was working but was somewhat unproven. Broad St. Lofts was commanding rental rates that were previously uncharacteristic for the city. Over just three years of ownership, Broad Street, LLC was able to not only prove that this model works but has also been able to consistently achieve rental increases year over year.
"This really speaks to the economic growth and development of downtown Bangor" said Mike Cobb, managing director of Colliers International in Maine. "When we sold this building in 2017, there was a lot of speculation on whether the market could bare these rental rates. Since then, there have been many other high-end apartment rental projects developed in downtown and tenants are telling the story that they want to be here, and they are willing to pay a premium for quality units."
This transaction was brokered on behalf of both the seller and buyer by Cobb and Andrew Ward of Colliers International.