Hopkinton, MA Construction manager Colantonio Inc. recently joined 75 residents, local and state officials to celebrate the groundbreaking of the Hopkinton Early Elementary School.
The 82,000 s/f school features classrooms, a gymnasium, kitchen, cafetorium, art, health, music, and specialized classroom spaces geared for prekindergarten, kindergarten and first grade students. The facility will provide two playgrounds, a play field and connections to adjacent town-owned parcels, including EMC Park. The project will target LEED Silver certification with measures and equipment that reduce water use and optimize energy performance, including a rooftop photovoltaic array.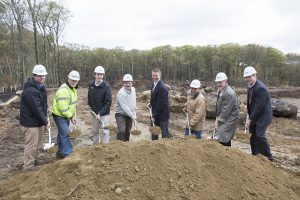 Shown (from left) are: Michael Berlin, Compass Project Management; Robert Tucker, CPM; Jeffrey D'Amico, CPM; Judd Christopher, DRA Architects; George Willwerth, Colantonio; Michael McKeown, Colantonio; John Hobson, Colantonio; James Barrett, DRA Architects.
Jack McCarthy, executive director of the Massachusetts School Building Authority (MSBA), praised the Hopkinton Elementary School Building Committee (HESBC) for its selection of Compass Project Management, DRA Architects and Colantonio Inc. as their partners. "You chose a great team. I've worked with all of them," he said. "I know this will be done on time and on budget."
HESBC Chairperson Joe Markey commended the Hopkinton community for its "strength and cohesiveness" in getting the project this far and for being "willing to build something for future generations". He also thanked the MSBA for its partnership in the process, which "saved the community millions of dollars."
The project will be completed in August 2018.
Holliston-based Colantonio Inc. provides award-winning construction management and general contracting services in the K-12, academic, affordable housing, commercial, municipal and historical restoration markets.