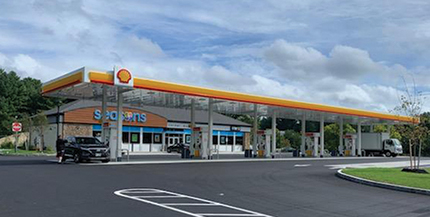 Nashua, NH Colbea Enterprises, LLC has opened its second Seasons Corner Market in the city. This 24-hour store is situated at 4 Blackstone Dr. on the corner of Amherst St. (Rte. 101A).
Seasons Corner Markets present an inviting atmosphere with rustic wooden style flooring and a bright color scheme for the interior walls and décor. In addition, there are a variety of fresh food and healthy offerings to augment a strong coffee presence in Colbea's proprietary Corner Market Café.
In addition, these locations feature a motor fuel facility featuring Shell gasoline and diesel.
Colbea Enterprises is a joint venture between Eastside Enterprises LLC and Motiva Enterprises LLC. and owns, operates and supplies Shell-branded products throughout Rhode Island, New Hampshire and Massachusetts through a combination of 110 company-operated sites, dealer sites and open-dealer sites.
Colbea is currently on an aggressive path to expand Seasons Corner Markets in New Hampshire as well as Massachusetts and Rhode Island and is seeking one-to-two-acre sites at corner locations.