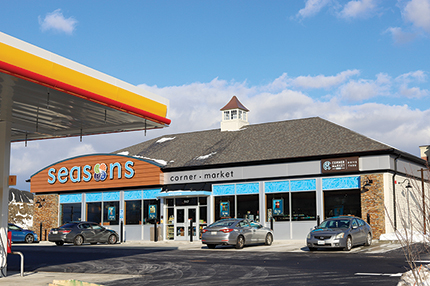 Scituate, RI Building on its past success, Colbea Enterprises, LLC has opened two more Seasons Corner Markets. One is at 34 Hartford Avenue (Rte. 6) in Scituate, and the second at 947 Douglas Pike (Rte. 7) in Smithfield. Both of these stores are open 24-hours.
Seasons Corner Markets present an atmosphere with rustic wooden style flooring and a bright color scheme for the interior walls and décor. In addition, there are a variety of fresh food and healthy offerings to augment a strong coffee presence in Colbea's proprietary Corner Market Café featuring drive-through lanes with pick-up windows.
In addition, these locations feature a motor fuel facility featuring Shell gasoline and diesel.
Colbea Enterprises is a joint venture between Eastside Enterprises LLC and Motiva Enterprises LLC and owns, operates and supplies Shell-branded products throughout Rhode Island, New Hampshire and Massachusetts through a combination of 110 company-operated sites, dealer sites and open-dealer sites.
Colbea is on a path to expand Seasons Corner Markets in New Hampshire as well as Massachusetts and Rhode Island and is seeking one-to-two-acre sites at corner locations.