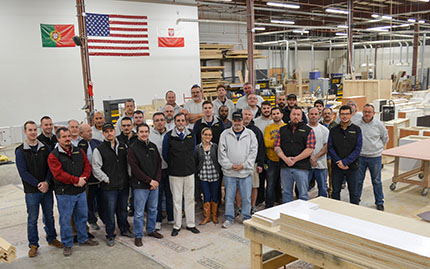 Canton, MA If there is one thing that Woodcraft Designers & Builders wants people in the construction industry to know, it's that the firm is not your typical millwork company.
"We market ourselves as a custom millwork company – and rightfully so – but we're really a specialty contractor," said Lukasz Wasiak, managing partner of Woodcraft. With the rapid recovery of the construction industry, project managers are finding themselves increasingly overburdened with more complex projects and higher-end finishes, particularly with the luxury amenity spaces of the multi-family market. Woodcraft differentiates itself from its competition by managing the entirety of today's complex amenity packages, taking that burden away from our client's project managers, and eliminating the need to micromanage all the sub-trades typically involved with these non-traditional millwork installations.
"We really excel at engineering and taking the project from concept to a fully functioning space for the end user" said Wasiak. "We're not just a millworker. We deliver turn-key specialty packages, which means completing all components of an installation without qualification. We provide glass, stone, metals, and even composites, including everything from architectural ceiling assemblies, low-voltage electrical systems and upholstery. We design our millwork items to seamlessly interface with existing surfaces, and perform any and all coordination with sub-trades to insure a quality and on-time installation that is within budget. Our goal is to support the client throughout the process from approvals to closeout. We believe it's this exemplary level of service that's fueling our growth."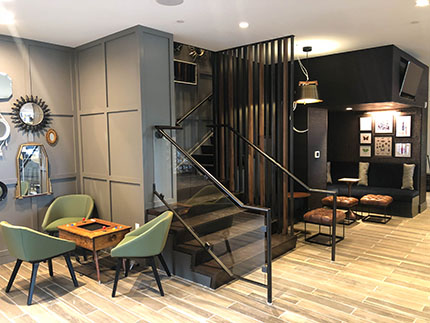 Woodcraft has seen its project revenue grow tenfold – from $1 million in 2012 to a projected $10 million in 2018 – since the company spun off from its predecessor WW Woodworks, which was started in 1991 by Wasiak's stepfather Maciek Butkiewicz and a family member. The company has also doubled its workforce since 2016, when it relocated from an outdated 9,000 s/f shop in Brockton to a renovated 30,000 s/f manufacturing facility in Canton that houses 45 craftsman, installers, estimators, project managers, and support staff.
The growth began in 2012 when Wasiak returned to the firm where he had worked as a boy, leaving his post as director of operations for concrete construction contractor Raycon to parrtner with his stepfather in the new venture. During that year, primary client Benchmark Construction was working on three hotel projects simultaneously, with Woodcraft doing the millwork for all of the amenity spaces. It was also during that time that a profound shift was underway in the multifamily market, as new construction increasingly became geared towards luxury apartments featuring amenity packages and community rooms – precisely what Woodcraft was delivering for the hotel projects.
That shift was the turning point for Woodcraft, beginning with a million-dollar millwork package for Watertown Mews, a 206-unit luxury apartment complex that served as a prototype for Texas-based developer Mill Creek Residential, which began incorporating luxury amenity spaces into their designed communities for the multifamily market.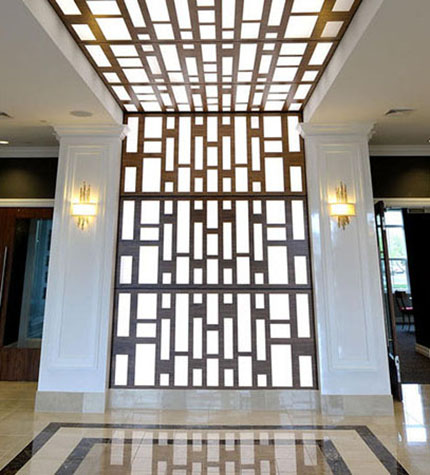 "We did everything on this project – the stone, metal ceilings, mirrors, the bar area, backlighting, and the custom doors. It was a hit," saidWasiak, as the complex was fully-leased before Mill Creek broke ground on the second building. Following the success of that project, Woodcraft began to win more business across all product types – retail, tenant fit-ups, hospitality, healthcare, and education. Amenity space still makes up a significant portion of the firm's business, and Woodcraft recently completed 25,000 s/f of amenity space at The Kendrick, the 390-unit luxury community living campus in Needham being built for Toll Brothers Apartment Living by Dellbrook Construction.
As the business has grown, the company has taken steps to thoughtfully expand its operations, bringing aboard industry stalwarts in key positions. In addition to 20-plus full-time woodworkers, Woodcraft has added 40-year industry veteran Mike Aguiar as chief estimator; field operations manager Brett Watman; and director of sales and business development John Pozerski in the last 18 months.
This fall the firm hired operations VP David Duclos – who brings over 35 years of operations, engineering, and general management experience in commercial millwork – to oversee all project management and manufacturing operations. "What people care about is value and projects being completed on time for the right price," said Duclos. "We add value to what the general contractor is doing through accurate manufacturing resource planning, adhering to schedules and by becoming a real partner with the general contractor."
Duclos believes bringing Woodcraft to the table in the early phases of the design process is vital to value engineering a project – a view that is shared by longtime partner Dennis Colwell of Dennis Colwell Architects. "What separates Woodcraft from other millworkers is that they're more of a solution-based team," said Colwell. "Collaboration is definitely a key for us, so bringing the architects, interior designers and the Woodcraft team to the concept early on in the process ensures that we can meet the budget and that the design functionally makes sense."
Another key component to the company's success has been their ability to retain its skilled workforce. Unlike most millwork firms, Woodcraft does not rely on temporary labor agencies to staff up projects. Woodcraft maintains a year-round workforce, and offers a strong benefit package that includes comprehensive healthcare and bonuses. "I have always felt that this is like a family, and I think that's what differentiates us from other companies," said co-founder Butkiewicz. "And if someone has a problem at home, that's what needs to come first."
It is the knowledge and experience of the millworkers, combined with the ability of the Woodcraft team to offer comprehensive solutions to project managers that is driving growth for Woodcraft. The company numbers AvalonBay, Commodore Builders, Dellbrook/JKS, Elaine, Erland, Lee Kennedy, Lincoln Properties, Mill Creek Residential, Sterling Construction, and Walker Development & Construction among its partners.
"When it comes to run-of-the-mill cabinetry and millwork, you can use anybody. But when it comes to custom work, I wouldn't think of using anybody other than Woodcraft," said Nick Poirier, director of construction services and co-founder of Walker Development. "Based on what I've seen of their work and the feedback I get from my clients, they truly make the design dream become a reality."