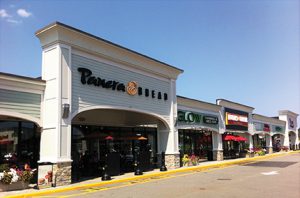 Inland Group's White City Shopping Center – Shrewsbury, MA
By Kristen Scott Lewis, Scott/Griffin Architects
Scott/Griffin Architects (SGA) was re-branded in 2010, carrying the values and experience of its 33-year-old tenure Peterson/Griffin Architects as retail leaders in architecture and design throughout the Northeast.  As retail shopping centers have evolved, so has SGA's design approach.  Shopping trends have become less utilitarian and more of an experience with an emphasis on what you want, rather than what you need.  SGA has been embracing this concept since its first 300,000 s/f open air development, Main St. at Exton, Penn. in 2001.  They have moved away from the big box store model and instead promote the suburban and urban lifestyle driven customer experience.  By creating an aesthetically pleasing "Main St." appeal of open-air markets, highlighting architectural details and green spaces, the customer shopping experience is enhanced.  Brick and mortar establishments will continue to thrive, as long as the emphasis is geared toward local retail.  More personalized, experiential spaces with unique businesses, catering to the "neighborhood" in smaller footprints is the new norm.
The design process for developing these urban and suburban lifestyle centers is a culmination of team collaboration led by principal Tom Scott, with his 35 years of experience and vision.  Their talented and diverse team of architects and designers cultivate the forward thinking concepts of all their developments.  Their clients benefit and become their most integral partner when creating the innovative concepts behind the heart of each design. Through this close-knit network of professional personnel, the most exciting design emerges.  Development of the concepts progress through many schematic iterations.  The team propose, discuss, redline and strategically whittle down the options to arrive at the best and most desired customer experience.  SGA'S process is organic.  These client-visioning sessions are essential to the creative process and the concept cannot be transferred to computer-aided renderings without them.  Discussing concepts with a client using a sketch conveys passion, mood and feeling. This builds a stronger connection between the design and the audience. That connection always trumps technology.  An important point to emphasize is that not all design is good design.  The design process is still only a concept until that concept can be brought to fruition.   

Prospective retail shopping development
SGA prides itself on close coordination with client, contractor and team guiding projects through  the initial design phase, the permitting and approval phase, construction (with all the changes and developments the building process brings with it), to completion.  Clients of SGA rest assured knowing all real world development issues that plague the design world and its visions, will be attentively solved in a timely and budget friendly manner.  SGA is building to improve the shopping experience; building smart for today's market; building green for sustainability.
SGA's most recent retail developments include Inland Group's White City Shopping Center, an open-air retail concept anchored by Shaws, Planet Fitness, Panera Bread, The Paper Store and Petco, in Shrewsbury, Mass.  And Charter Realty & Development's Fellsway Plaza, a 157,000 s/f retail center anchored by Stop & Shop, Ocean State Job Lot, Modells, Smash Burger and Planet Fitness in Medford, Mass. 
Coming soon Locatelli Properties' Belmont Retail & Office Center in Belmont, Mass., 48,000 s/f anchored by Foodies Market.  All of these developments offer a mix of high quality restaurants, boutique shops and national retailers.  These shopping centers have revitalized the local communities with the improvement of town property and surroundings, access to quality consumer products and services, increased revenue to the municipalities, and created green spaces to enhance the lifestyle of residents and patrons.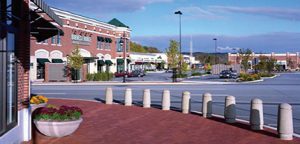 Wolfson Group's Main Street at Exton – Exton, PA
SGA's retail design environments encourage the consumer to stay longer, making a day out of the shopping experience. SGA is proud to be a part of the revitalization process for Massachusetts and other Northeast communities. They will continue to integrate new technologies and groundbreaking design elements, as they enhance retail design and forge ahead to future projects.
Kristen Scott Lewis is a designer for Scott/Griffin Architects, Waltham, Mass.