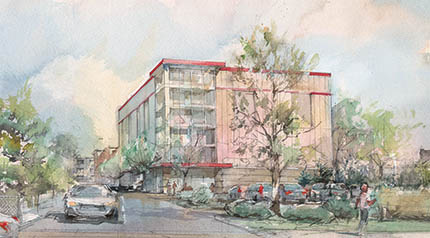 Everett, MA Connolly Brothers is partnering with Jumbo Capital Management, LLC to construct their Jumbo Self Storage Facility at 1901 Revere Beach Pkwy. The six-story 130,000 s/f building is a conventionally-framed steel beam and composite deck building with concrete slabs, an insulated metal panel exterior sheathing system, a glass curtainwall system, decorative masonry exterior walls, and an insulated membrane roof system. Upon completion, the facility will feature over 1,200 temperature-controlled self-storage units, an access control system, two freight elevators, dedicated sales/administration offices, and at-grade and covered customer parking areas.
The project required the complete demolition of an existing 24,000 s/f machine shop that was constructed in the early 1990s as well as the removal and replacement of over 35,000 cubic yards of structurally unsuitable soil to make way for the 130,000 s/f facility on the tight, urban, 1.3 acre site. The requirement for on-site soils improvement on a compact site in a densely populated area required strategic planning for the sitework subcontractor and the construction management team.

Along with Connolly and Jumbo, the project team also includes the full-service design and engineering firm BL Companies. The Connolly construction management team is comprised of project manager Bill Guzowski, assistant project manager Jessica Garabedian, and project superintendent Chris Benton.
Connolly was awarded the project through a competitive bid process and it is Connolly's first collaboration with Jumbo.
"We are thrilled to be partnering with Jumbo to bring their vision for this project to fruition" said Jay Connolly, vice president of Connolly Brothers. "This is the first of what we hope to be many projects for Jumbo moving forward. This project has presented a few site related complications, but the project team has worked collaboratively to overcome these issues. On all of our construction projects, we go to great efforts to not only deliver an exceptional project experience and a quality product, but we also strive to be asked back for the next project. That ethic has been a hallmark of our century-old success."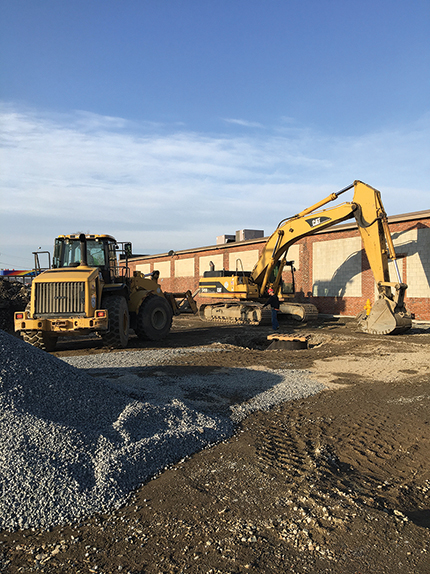 Connolly is a general construction contractor and construction management firm based in Beverly, Mass. Established in 1880 and now under fifth generation leadership, Connolly specializes in private industrial, commercial and institutional construction projects.
Jumbo Capital Management, LLC was founded in 2009 by Jay Hirsh, who left Boston-based New Boston Fund, Inc., in order to pursue investment opportunities brought about by the recession. Jumbo has since grown to over 30 people with senior leadership having over 80+ years of commercial real estate experience.
Jumbo has the ability to invest in all property types and focuses on a range of transactions from $15-$300 million. Currently, the firm manages 4 million s/f of commercial real estate in the greater Boston area and utilizes its subsidiary company, Surus Development & Construction, to accelerate early phase site work including demolition, site prep and environmental remediation.
Jumbo is focused on four primary investment areas within commercial real estate: value-add properties that can be strategically repositioned, net leased credit tenant income properties with durable cash flow, opportunistic/distressed ventures, and ground-up development.