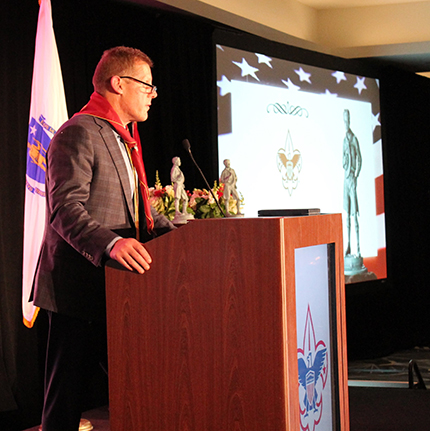 Boston, MA Consigli Construction chief executive officer Anthony Consigli is volunteering to conduct virtual merit badge training as part of the Boy Scouts Spirit of Adventure Council virtual guest speaker series. With kids stuck at home amid the coronavirus pandemic, the Spirit of Adventure Council has transformed its outdoor program to an online format. The virtual guest series features top professionals engaging with boys and girls and inspiring them with their career stories. The speaker series is free and available to everyone, Scouts and other children.

Consigli will be the featured speaker on April 24th at 2:00 p.m.

Consigli is a graduate of Harvard University and is on the board of a number of local organizations, including the Norman Rockwell Museum. Under his leadership, Consigli Construction has grown steadily, increase from $1 million to $1 billion in annual volume.
Consgili is an Eagle Scout and a longtime supporter of Scouting. The Spirit of Adventure Council previously honored him with the 'Ralph Lowell Distinguished Citizen Award' for his active role in working to address community issues through his involvement with helping others.

The Spirit of Adventure Council virtual guest speaker series is held each weekday, Monday-Friday, at 2:00 p.m. The online merit badge training and programs available to boy and girls from Spirit of Adventure Council replicate the programs traditionally offered at New England Base Camp in Milton, Base Camp Express in Woburn, and two Merit Badge University events held at Harvard University and the University of Massachusetts-Lowell. This interactive speaker series is helping to keep children engaged, learning, and exploring potential careers in a variety of relevant industries.
Other leaders participating include United Way of Massachusetts president Mike Durkin, Massachusetts Veterans Affairs secretary Francisco Urena, WCVB-TV anchor Randy Price, WCVB-TV meteorologist Mike Wankum, children's book author/illustrator Peter Reynolds, Century Bank CEO Barry Sloane, Causeway Media Partners co-founder and managing partner Bob Higgins, Kripalu Yoga Center for Yoga & Health director of outdoor education Micah Mortali, among others.