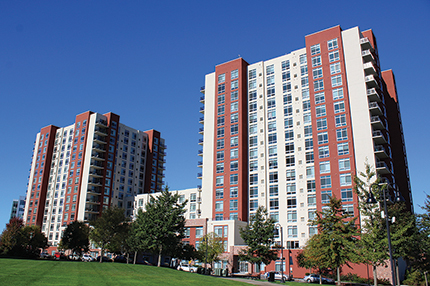 Stamford, CT For over 10 years, developer Building & Land Technology has continued to tap the product design and manufacturing expertise of national manufacturer Crystal Window & Door Systems for its waterfront development Harbor Point. To date, Crystal has been selected to supply thousands of energy efficient aluminum windows and doors for many new high-rise and mid-rise apartment buildings throughout this development less than 40 miles northeast of New York City. Entering the second decade of its involvement in the project, Crystal has recently added several new buildings to its Harbor Point completed portfolio, and more are in the construction phase.
"It is a testament to Crystal's capabilities that we continue to partner with Building & Land Technology as a key supplier for this premier development," said Blaise Benevenga, Crystal's New England regional sales manager. "The Crystal window and door products selected for each building offer sleek, contemporary styling, superior energy efficiency and sound attenuation, strength and durability, and effortless operation. They are the perfect choice for the high-end Harbor Point development." To date, Crystal has supplied over 16,000 high-performance windows and doors for 12 buildings, and more Harbor Point buildings are under construction.
The three latest buildings completed are [email protected] Point, Allure, and Escape to Harbor Point. All the buildings are high-rise, twin-tower complexes ranging in height from 16 to 22 floors with views, courtesy of nearly floor-to-ceiling Crystal window and glass door combinations. Crystal supplied several of its newer high-performance products as well as the company's popular classic product lines for these residences.
For the new projects, Crystal supplied aluminum Series 5600 sliding and Series 5100 fixed windows, along with its aluminum Series 8600 windows in casement, fixed, awning, and hopper styles. Most building openings used large expansive continuous head and sill master frame ganged and stacked configurations. A combined total of 7,155 Crystal windows were supplied for these latest three luxury apartment buildings.
The Series 5600 and 5100 windows feature 3-¼" jambs, with AAMA ratings of AW-PG40/50 and AW-PG100, respectively, as well as a unique self-mulling jamb feature. The sliding windows feature stainless steel sash rollers, full height sash clip lock pull rails, and interlocking meeting rails. The AW-rated Series 8600 windows complement other Crystal products supplied, with 3-¼" depth frames and continuous master frame and mulling options. Casement and projected windows feature European-style hardware and multi-point locks.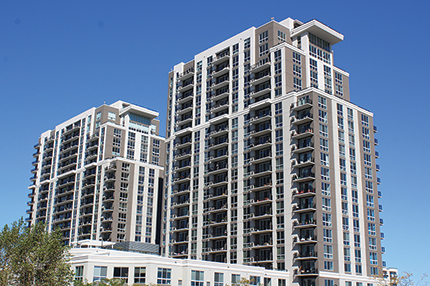 For access to balconies and outdoor spaces, Crystal provided a total of 1,502 heavy-commercial Series 1280 aluminum sliding patio doors and heavy-commercial Series 1450 outswing aluminum terrace doors. The Series 1280 sliding patio door features a 4-9⁄16" frame depth, heavy-duty adjustable stainless steel quad rollers for operation ease and durability, as well as a contemporary-style locking handle. It is AAMA rated AW-PG50. The Series 1450 outswing aluminum terrace door is rated AW-PG75 and features a 3-¼" frame depth, multi-point locking system, and a European-style locking handle. Both door styles are available with matching side and transom glass units and ADA compliant sills.
All of the Crystal window and door products supplied used 1" dual-pane insulating glass units with Solarban 60 Low-E coating and Argon gas filling, and tempered glass panels where code required and for doors. All frames are finished in Crystal's no-VOC environmentally-sustainable simulated anodized silver AAMA 2604 powder coat paint.
"Crystal fenestration products are the perfect choice for a location such as Harbor Point, with its bustling waterfront environment that challenges building materials," said Benevenga. "Our strong, durable products withstand the windy marine climate, and provide weather resistance, energy efficiency, and sound attenuation creating the most comfortable living spaces for residents. Crystal windows and doors at Harbor Point's many luxury apartment buildings will provide long lasting beauty and stunning views for many years to come."
Harbor Point in Stamford, CT, is one of the largest mixed-use brownfield redevelopments in the country. National developer Building & Land Technology of Stamford, with architecture and planning firm EDI International of New York, designed this $3.5 billion master-planned, LEED Gold Transit-Oriented Development project with five distinct neighborhoods on 177 acres to rejuvenate this neglected area of Stamford and reconnect residents with the waterfront. Harbor Point features millions of square feet of commercial and residential space, many outdoor recreational park areas, a full service marina, shops, restaurants, and convenient public transportation. Construction on new residential and commercial buildings in the development continues.
The three latest luxury apartment buildings supplied by Crystal have over 400 apartments each, and offer rooftop and ground level terraces with pool, grill, firepit, and lounge areas, fitness and gaming centers, garage parking, concierge services, and pet-friendly options.