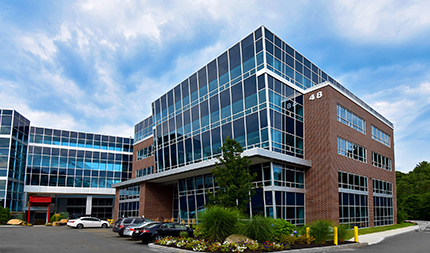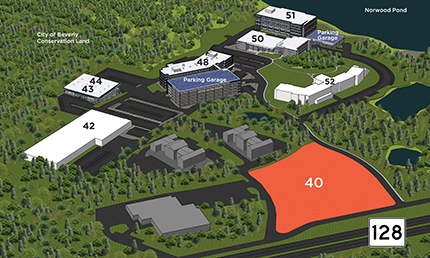 Beverly, MA Demonstrating confidence in suburban growth, northeast developer Cummings Properties continues its expansion at Dunham Ridge. The firm is now developing a major new 700,000 s/f science and lab cluster fronting on Rte. 128 at exit 19.
With two new buildings totaling 204,000 s/f already under construction, the growing business and technology campus will offer a variety of brand new class A facilities, including high-bay suites.
TechCenter at Dunham Ridge is one of two new buildings under construction. Located at 51 Dunham Ridge, this lab-ready facility, anticipated for January 2021, will provide 155,000 s/f of Class A space. An attached 215-car parking garage is already complete.
"Despite the economic impact of COVID-19, we are confident in the future of commercial real estate and are building to accommodate future growth in Massachusetts' leading industries," said Dennis Clarke, chairman and CEO of Cummings Properties. "The North Shore is a well-established innovation region, and is an attractive location for companies to affordably scale up research and development efforts as well as production."
The new Dunham Ridge development aims to satisfy a market demand for high-bay flex space, according to Clarke. A fully permitted 50,000 s/f structure is currently under construction. Currently 35% pre-leased, 43-44 Dunham Ridge is also scheduled for January 2021 occupancy.