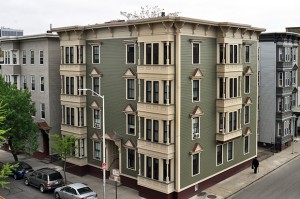 Bishop Allen Apartments - Cambridge, MA
Cambridge, MA Recently completed, Bishop Allen Apartments, provides an affordable housing option to an otherwise unaffordable neighborhood. Located in Central Sq., at the intersection of Bishop Allen Dr. and Norfolk St., the Bishop Allen Apartments consist of 27 three bedroom and 5 two bedroom apartments in four buildings originally built as residential hotels in the 1880s. After the Cambridge City Housing staff exhausted significant negotiation efforts with the prior owners to secure a preservation deal, Just-A-Start became a partner to prevent these units from converting to market rate rents.
Of particular importance is that, while a major project goal was to make these buildings energy-efficient, the historic character of the structures has been retained and restored to their original beauty.
The buildings were renovated in a way that enhances the original architecture, thanks to a grant from the Cambridge Historical Commission and Massachusetts Historic Rehabilitation Tax Credits. Project funding also includes MassDevelopment, Boston Private Bank & Trust, Brookline Bank, MHIC, and the Massachusetts Department of Housing and Community Development (DHCD). These sources provided over $5.4 million for rehab and improvement at the property.
The project blends deep retrofit with historic preservation by adding rigid insulation to the outside of the building for energy efficiency and durability. Historic details, which had been lost to vinyl siding, were recreated, bringing together the sometimes competitve goals of creating efficient buildings and restoring historic heritage. The renovation also includes new energy efficient windows, kitchens and bathrooms, flooring and interior doors, boilers and roofs at two of the buildings, fire sprinkler systems throughout, and the conversion of two units for wheelchair accessibility.
Just-A-Start's Peter Graham says, "Just-A-Start worked long and hard to obtain these properties to create affordable housing and to preserve the historic details in the process. It was gratifying that our general contractor, Curtis Construction, worked just as hard to make the project a success. Their skill and approach mirrored our own – as a true team working toward an important common goal."
This is Curtis Construction's first project for Just-A-Start.