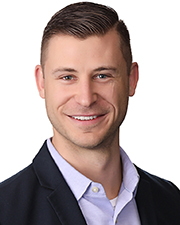 Westfield, MA Vice president Jason Curtis has been appointed as Tighe & Bond's building services business line leader. Curtis is a registered Professional Engineer in several states and a LEED Accredited Professional. Before taking on his current role, he served as technical director for the business line and oversaw key initiatives for the firm, while also developing and managing a portfolio of clients.
As a professional mechanical engineer, Curtis has led numerous projects from the conceptual design phase through construction for a wide variety of project types including higher education, K-12 schools, municipal buildings, industrial facilities, and multi-family residential with a constant focus on energy and sustainability.
Curtis is a graduate of Tighe & Bond's leadership institute and the ACEC Odyssey Leadership Program, where professionals develop their leadership skills for future management opportunities. Within Tighe & Bond, he is a member of the Diversity, Equity, and Inclusion (DEI) committee.
Tighe & Bond is an employee-owned, regional consulting firm in the Northeast, specializing in water and wastewater, transportation, and building services engineering; site planning and design; landscape architecture; and environmental science.