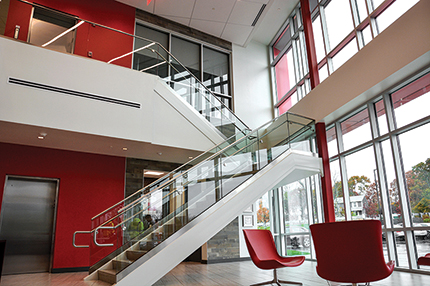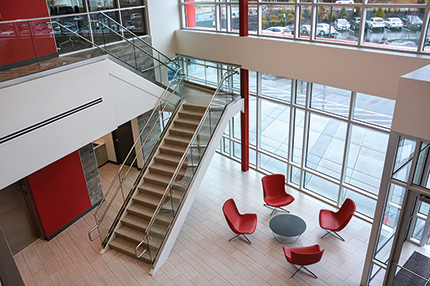 Peabody, MA Dacon Corp. and the Lucey Development Group completed construction on a $16 million, 140,703 s/f ground up corporate headquarters and logistics center in Centennial Park. This is Dacon's sixth design build project for the Lucey Development Group. Construction occurred over a 14 month period.
The design rationale behind the new headquarters is a fresh space which influences the firm's dynamic atmosphere, optimizes efficiency and keeps logistics fluid, while serving as a national hub for training programs. The project entailed a 108,000 s/f warehouse area, 16,395 s/f first floor office and 15,801 s/f mezzanine office area. A key design goal was an innovative space reflecting the firm's progressive culture. Employees and visitors enter through a 2-story glass façade with a monumental staircase that leads to the corporate offices, an amphitheater style training room, open cubicle spaces and two glass-walled conference rooms. Redolent throughout the facility's design is the firm's employee and customer centric culture. Core values are displayed in high use areas with each department branded by a values street sign. Employee enjoyment is an integral component to their brand.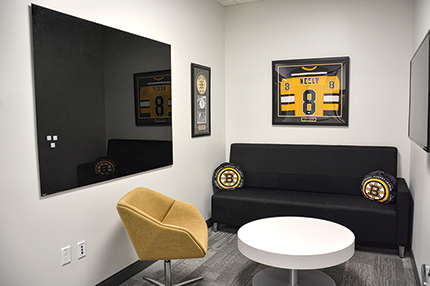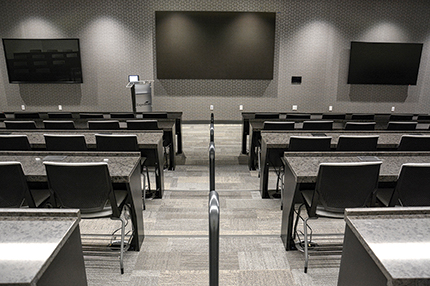 In a nod to Boston's great sports teams, small conference rooms are at employees' disposal designed in the thematics of the Celtics, Red Sox, Bruins and Patriots. A high-end kitchen and breakroom akin to a 1950s diner offers group booths, cooking equipment, quick serve food, metal paneling and gaming tables creating an active social space. The open floor plan between corporate offices and the warehouse allows for employees to circulate within the building.