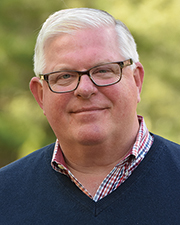 Meredith, NH Bill Day has joined Roche Realty Group, Inc.
Day formerly of Annapolis, MD, worked as a Certified Professional Yacht Broker for nine years. He is a native of the Philadelphia area, where he was a licensed Pennsylvania real estate agent for six-years, specializing in land development, new construction, and residential home sales for Weichert Realtors and Long and Foster Real Estate.
He was a member of the National Association of Realtors, Pennsylvania Association of Realtors, and the Delaware County Board of Realtors
Day is a familiar figure in the Lakes Region, having been the general manager of Lakehouse Grille, Lago, and Camp restaurants in Meredith for the past six years. Day served on the Lakes Region Tourism Association board of directors and participated in various community-based fundraising efforts. Day has a strong interest in marketing properties in the food & beverage and hospitality industry because of his extensive expertise in the industry. Other professional organizations include the Yacht Broker's Association of America's legislative committee and the Pennsylvania Special Court Judges' Association's legislative committee. Day also served as a member of the city of Chester, Pennsylvania Planning Commission, producing the municipality's comprehensive plan.