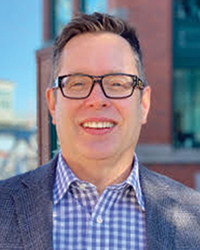 Portsmouth, NH Joseph De Serrano has joined DeStefano Maugel Architects as a senior architectural designer. De Serrano brings to the firm a wealth of senior design and project management experience in the commercial, hospitality, healthcare and residential sectors.
"We are excited to have Joseph join the DeStefano Maugel team," said Lisa DeStefano, principal at DeStefano Maugel. "Joseph's collaborative approach, design expertise, and ability to manage complex projects will provide incredible value to our clients."
Prior to coming to DeStefano Maugel, De Serrano spent much of his design career working with high-profile clients in Seattle, Washington and Bozeman, Montana. Most recently, he served as design project manager for one of the world's largest casual dining companies based in Tampa, Fla.