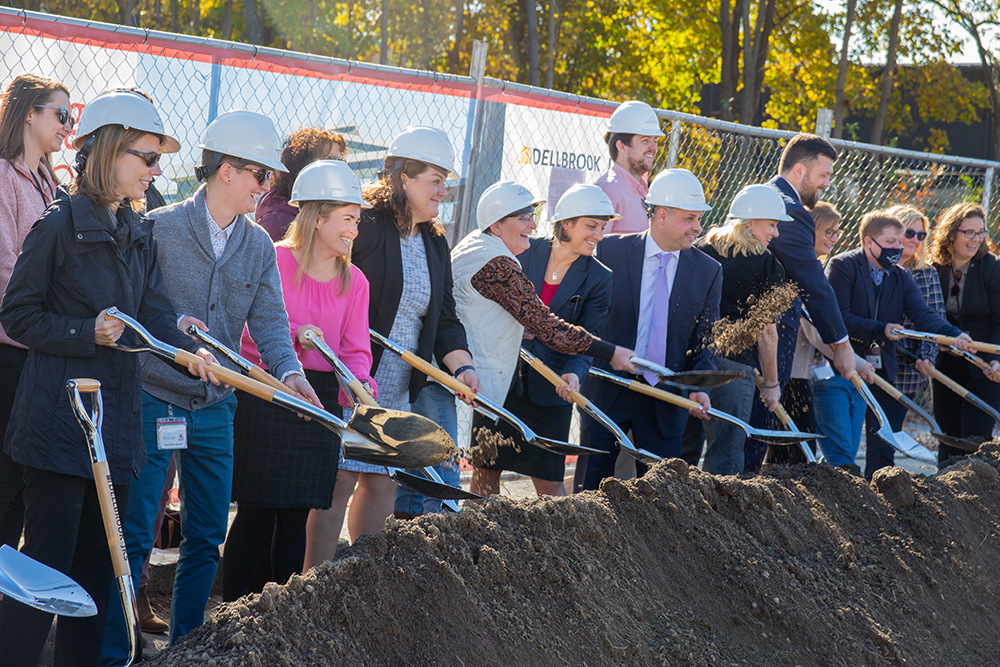 Quincy, MA New England construction management firm Dellbrook|JKS celebrated the groundbreaking of a new housing and resource center for the charitable Father Bill's & MainSpring, alongside The Narrow Gate Architecture on Tuesday, November 9th.
In partnership with the city, this project will be completed in two phases, near the existing Father Bill's & MainSpring facility on Broad St. All operations will be relocated to this new facility and the current site will be transferred over to the city. Project phase 1 includes the creation of a day center and shelter facility with associated staff offices, operations, dormitories, and medical clinic. Phase 2 includes the construction of 30 permanent shelter housing efficiency units, an outdoor courtyard area and parking.
Dedicated to ending homelessness in Southern Massachusetts, Father Bill's & MainSpring provides permanent supportive housing (PSH) for people in need. PSH includes housing assistance and supportive services to homeless individuals or families, especially those with disabilities. Father Bill's & MainSpring will help this population obtain not only housing but skills, jobs, and services that foster self-sufficiency. The vital work of Father Bill's & MainSpring will be amplified with the construction of this new facility, which Dellbrook|JKS is proud to begin.
The new center will be constructed on what is currently a 50,000 s/f commercial lot. Dellbrook|JKS anticipates the project's completion by fall of 2023 and is excited for the positive impact it will make on the community.
"We were delighted to join Father Bill's & MainSpring for the groundbreaking of its new center. It's evident that the project's inception was a labor of love, and the opportunity to turn dreams into reality is special" said Dellbrook|JKS senior superintendent, Robert Hanley. "We look forward to a careful and timely construction process, so that the community can quickly begin to utilize this important space."