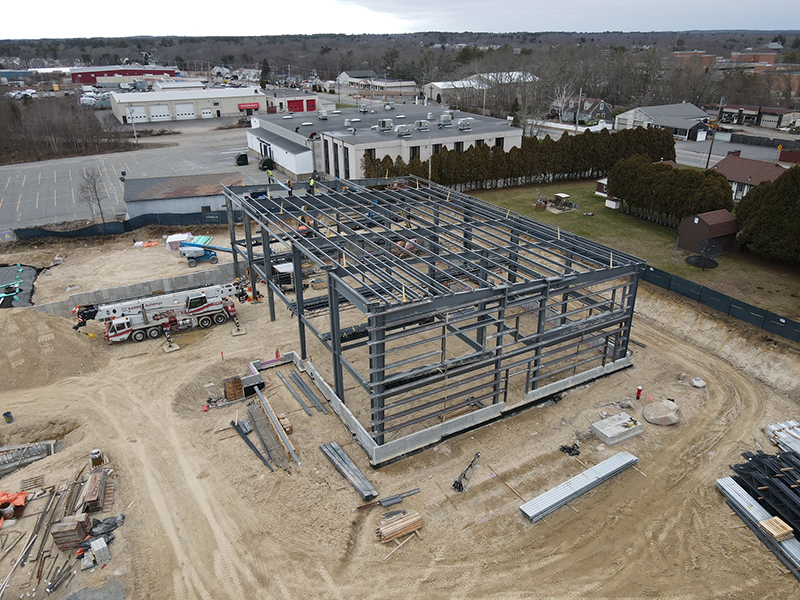 New Bedford, MA New England construction management firm Dellbrook|JKS continues construction at the 52,000 s/f K-8 Alma Del Mar Frederick Douglass Campus as steel framework arrives and design plans by Arrowstreet are finished. The new campus, which currently sits on a four-acre site, will feature new classrooms, a 4,500 s/f gymnasium, cafeteria with servery, offices, and support spaces. Exterior work includes parking, pickup/drop off area, playground, and outdoor recreational & classroom space.
"All of our pre-engineered metal buildings (all of the steel, roofing, and walls) have arrived at the site," said Dellbrook|JKS project manager Carolyn Kimball. "This is an incredibly exciting milestone."
Most of the foundation has been poured and steel framework will be complete within the next six to eight weeks. After, steel siding will be installed, with a mixture of steel and wooden skin as the façade.
"It's been a pleasure to partner with Compass Project Management and Arrowstreet on this project," said Kimball. "It's great to see everyone contribute their own unique experience and collaborate to create the highest value school for Alma."
The project was designed and will be built utilizing extensive sound control measures to eliminate ambient city noise and will feature environmental graphics that will cost effectively enliven the interior spaces.
"Dellbrook|JKS is incredibly proud of collaborating with Alma del Mar for their second community school and we're looking forward to the ceremonial steel beam signing with Alma's Scholars in the coming weeks, just as we did for the first school," said Kimball.
The building is expected to be completed by January 2022.