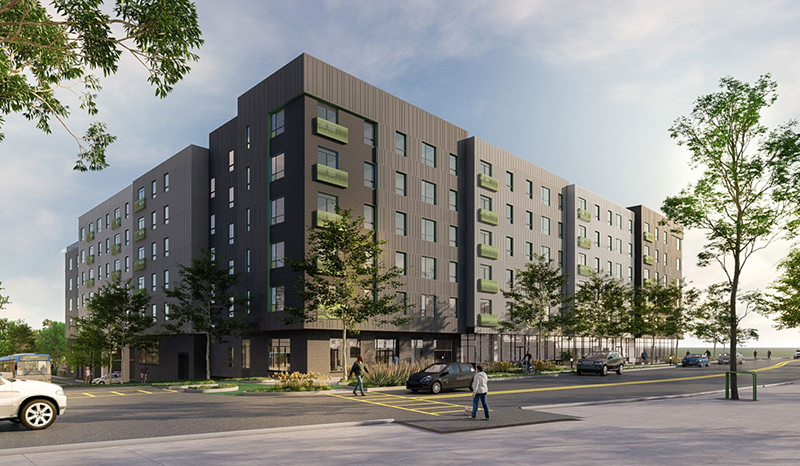 Boston, MA New England construction management firm Dellbrook|JKS will team up with MassHousing, the non-profit Preservation of Affordable Housing (POAH), and the city of Boston to transform 2.57-acres of parking next to the MBTA Mattapan station into The Loop at Mattapan, a $36.5 million development of 135 new affordable, passive house units. POAH and Nuestra Comunidad are the owners of the project with The Architectural Team Inc. (TAT) serving as architect.
The six-story over podium mid-rise building will feature 10,000 s/f of first-floor retail space, six studio, 38 one-bedroom, 81 two-bedroom, and 10 three-bedroom apartments all constructed using the latest passive house energy efficiency standards with LEED certification, and 1,800 s/f of community space located in Mattapan Sq.
"We are looking forward to collaborating with the POAH team on a job of this magnitude," said Dellbrook|JKS project manager John McGinnis. "It's exciting to be a part of Dellbrook|JKS' first passive house project and to bring a job of this scale designed by TAT, with energy consult from the Building Evolution Corp., to fruition."
A variety of transportation options will be available to residents including public transit, ride-share, bike-share, and direct access to the Neponset River Greenway. Seventy structured and 50 surface parking spots will also be available on-site.
Eighteen apartments will be restricted to very low-income households earning at or below 30% of the area median income (AMI) and those units will be supported by project-based vouchers through the federal Section 8 and the Massachusetts Rental Voucher Programs (MRVP). There will be 47 apartments restricted to households earning at or below 50% of AMI, 28 apartments restricted to households earning at or below 60% of AMI and 42 apartments restricted to households earning at or below 80% of AMI, of which 30 will be designated as workforce housing units.