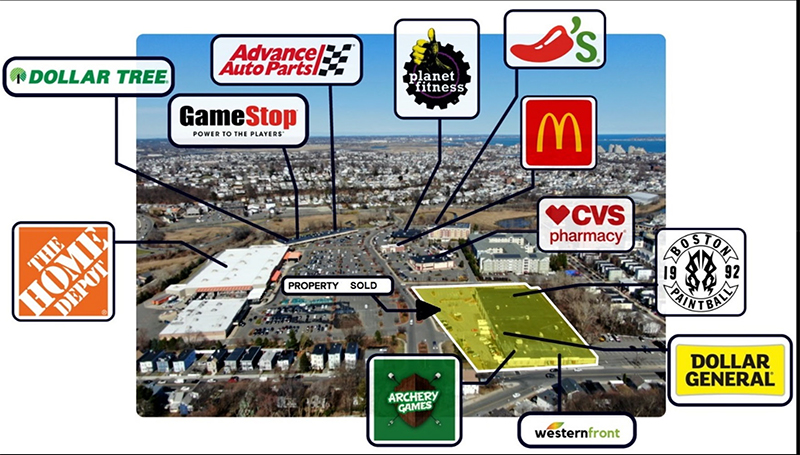 Chelsea, MA On January 14, Neil Denenberg, president of Denenberg Realty Advisors, negotiated the sale of a retail strip center located at 121 Webster Ave. for $14 million. The multi-tenanted, 72,172 s/f retail property with 25 foot ceiling heights, sits on a 3.52 acre lot and is adjacent to the Chelsea Commons Strip Center with anchors such as Home Depot, CVS and many other diverse tenants.
The retail corridor of Chelsea Commons and 121 Webster Ave. creates a huge draw for goods and services from the surrounding areas. This center is located off Revere Beach Pkwy. (Rte. 16) and Rte. 1 with access to Boston and traffic counts of over 48,000 cars per day.
Denenberg represented the seller, CARU Chelsea, LLC, and procured the buyer Kendal Capital, LLC with both parties working together, despite this pandemic, this sale was achieved.
Denenberg said, "It was a pleasure working closely with these two extremely committed parties, CARU Chelsea, LLC, and Kendal Capital, LLC, on the acquisition of this commercial property for $14 million and we look forward to working with them again in the future. This was a rare opportunity to purchase a legacy asset retail strip center with substantial upside in the Metro Boston area in this dynamic real estate marketplace."
Denenberg Realty Advisors is an active boutique firm specializing in the sale of on and off-market properties including strip centers, apartment complexes, multi-family, office, retail and industrial properties as well as land deals in the Northeast and welcome buyers and sellers to contact them.