Portland, ME DiGiorgio Associates Inc. (DAI) and Monitor Builders Inc. (MBI) have relocated their Farmingdale, ME office to 500 Washington Ave. The Maine office continues to provide architectural, engineering and construction services as part of the DAI/MBI offerings including planning, architecture, pre-construction, M/E/P engineering, interior design, construction management and design/build services to our clients. DAI designed the 3,200 s/f tenant fit-out, completed in September, incorporating open office planning and various communication technologies to better serve our clients.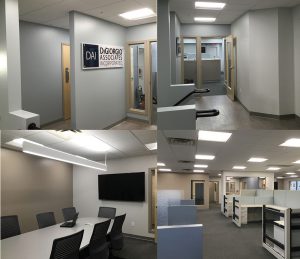 500 Washington Avenue - Portland, ME
The DAI/MBI Portland office welcomes Todd Chase, PE, vice president of engineering, Curt Bartram, PE, senior mechanical engineer, and Tom Foley, senior mechanical drafter. Chase, Bartram and Foley come to DAI from Viridis Engineering of Gorham. Chase has over 20 years of experience, and Bartram over 30 years in the areas of healthcare, industrial, educational, commercial, and military facilities.
DAI/MBI is headquartered in Boston and has been serving clients with a focus in healthcare and senior living markets since 1984. Another exciting development at DAI/MBI is occurring. The Boston office is relocating in December, to the Charlestown Schrafft's City Center in 8,000 s/f of tenant fit-out, similarly designed by DAI with the same operational layout as Maine to better serve their clients.