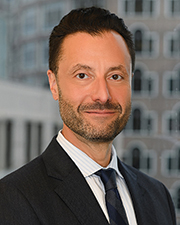 Boston, MA According to The Davis Companies, Marco DiMuzio has joined the firm as senior vice president of construction. In this newly created role, DiMuzio directs all facets of Davis' construction activities, including pre-development budgeting, construction management and design administration for ground-up construction projects and substantial building re-positioning plans. As SVP of construction, DiMuzio will play an integral role in guiding the in-house investment and asset management teams on cost and constructability logistics for all new projects.
DiMuzio brings over 30 years of experience in construction management to Davis and has delivered over 11 million s/f of space during his career. He most recently served as vice president of construction at GID Development in New York, driving overall project management and construction operations. In this role, he led the Waterline Square Project, which consisted of three residential high-rise buildings in New York representing 2.1 million s/f and $2.26 billion in total investment cost.
"With a construction professional of Marco's proven talent and expertise as part of our team, we are extremely well-positioned to capitalize on any value-add development opportunity that meets our investment and underwriting criteria. I look forward to working with him in continuing to advance our substantial pipeline," said Michael Cantalupa, chief development officer of Davis.
"I am excited to join the Davis Development Team," said DiMuzio. "I'm impressed with its strategic growth and look forward to playing a valued role in ensuring its standards of excellence are continually woven through each and every project Davis is involved with."