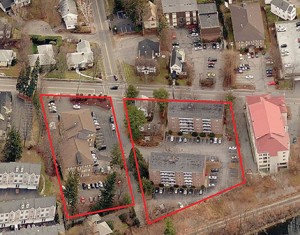 The Riverside Trust apartment portfolio - Manchester, NH
Manchester, NH Brokers Tom Duffy and Michael Charron of Berkshire Hathaway Home Services Verani Realty, Londonderry, have brokered the sale of The Riverside Trust apartment portfolio. The portfolio, consisting of 4 properties with a total of 163 units sold for $11.125 million. 
Duffy and Charron represented the buyer in this transaction.
This transaction marks the team's second over $10 million, over 100 unit apartment sale in the last 9 months. The team sold the Carisbrooke Apartments totaling 108 units in Manchester, for $12.15 million in February.
"The multifamily market is strong with cap rates and rent multiples near their all time highs," said Duffy. 
According to Charron, "Easy loan conditions for investors are fueling the sales, resulting in high prices to sellers."