Glastonbury, CT Eastern Connecticut State University (ECSU) held a ribbon-cutting ceremony to mark the opening of its new 118,000 s/f Fine Arts Instructional Center, designed by The S/L/A/M Collaborative (SLAM), in collaboration with William Rawn & Associates of Boston. Robert Pulito, AIA, SLAM president and principal-in-charge on the project, spoke at the event remarking on the time, effort and emotional investment of the hundreds of people who made the new fine arts center possible.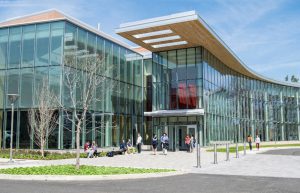 Eastern Connecticut State University's Fine Arts Instructional Center - Glastonbury, CT
"A project like this starts with such anticipation and aspirations, and it's really wonderful to stand here today and see the completed project," said Pulito. "It is especially rewarding when you think about the complexity of this project and how many people and how much effort, talent, commitment and emotional investment it took to deliver this remarkable new facility."
The new $62 million facility combines teaching, performance and exhibit space for the Performing Arts Department's Music and Theatre programs, as well as exhibition and studio spaces for the Art and Art History Department. The center also features several general purpose classrooms.
The building's three performance venues include: • A 400-seat concert hall/auditorium, tailored to music performances with natural acoustic excellence, also serving as a major gathering place for the campus community, including convocations and lectures; • A 250-seat proscenium theatre that provides a venue for theater performances on campus, allowing for proscenium theater training for students in the major; • A flexible 125-seat studio/black box theater located off the main lobby, behind a large contemporary sliding "barn door," which can be arranged in multiple seating configurations.
The center also has an art gallery that provides a signature space for rotating exhibits from ECSU's permanent art collection, outside artists, student and faculty work. The unique "barn doors" also located between the lobby and the proscenium theater, create a welcoming entrance for patrons to view the performance area from the lobby.  A "barn door" for the instrumental rehearsal room creates flexibility in the use of rehearsal space for smaller performances.
In addition to performance venues and the art gallery, the new center has an instrumental rehearsal room seating up to 80 musicians; a choral rehearsal room; ceramics and sculpture studios; a theatre design classroom and scene shop; faculty offices; two performance labs to support dance, movement and theatrical instruction; a piano lab, performance technology lab and music practice rooms; a printmaking and papermaking studio; costume shop; two digital computer labs for instruction of digital art, graphic design, and motion graphics; two design studios for instruction of two-dimensional design; painting and drawing studios; and three general purpose classrooms. With its mix of performance venues, art gallery and instructional spaces, and its modern aesthetic, the new center gives Eastern an opportunity to present itself to the broader community through the enhanced presence of the fine arts on campus.
Students began classes in January in the new facility. SLAM also designed Eastern's Science Building, which was completed in September 2008.
As a fully-integrated, multi-disciplinary architecture firm, The S/L/A/M Collaborative (SLAM) has a national presence in programming/planning and designing professional schools of medicine, pharmacy, nursing, public health, law, business, science, engineering, and technology. SLAM has recently completed noteworthy projects with clients from the University of Notre Dame, Duke University, Emory University, University of Texas at Austin, Johns Hopkins University, University of Tennessee, Rutgers University and University of Cincinnati, among others.
SLAM offers architecture, planning, interior design, landscape architecture and site planning, structural engineering and construction services that focus on various market sectors. SLAM is located at 80 Glastonbury Boulevard, Glastonbury, and has additional offices in Atlanta, Syracuse and Boston.