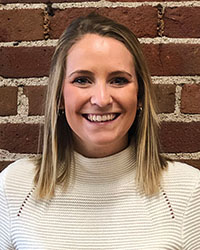 Boston, MA Elizabeth Elcock has joined Corderman & Co. as assistant project manager. She will be working on several projects in the construction management services firm's growing and diverse portfolio.
Elcock joins Corderman from Office Resources, a Knoll dealer and a provider of creative workspaces, where she served as a business development associate. In that position she was responsible for developing new business accounts by marketing Office Resources and Knoll's products and services to brokerage, project management, and construction firms. Previously Elcock was account development manager with Creative Office Pavilion.
"Elizabeth is a great addition to our deep well-rounded team of dedicated professionals and creative thinkers with complimentary cross-functional skills," said Barrie Ferraro, Corderman & Company principal. "This is part of our continued focus on career development that defines our culture and business philosophy."
Elcock earned a Bachelor's Degree in Health and Wellness Promotion from Saint Joseph's College of Maine. She was an intern for Saint Joseph's Health and Wellness Services, Special Olympics, and Riding to the Top Therapeutic Riding Center.