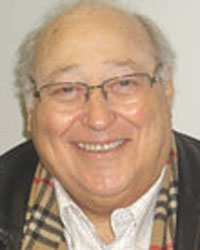 Brookline, MA With sadness we write to let you know of the passing of Elliot Ravech, husband of Marilyn Ravech, father and father-in-law of Andy Ravech and Brenton and Marcy Ravech, grandfather of Max, Alyssa, and Zachary.
The funeral will be held on Sunday, February 11th at 10:30 am at Stanetsky Memorial Chapel - 1668 Beacon St. in Brookline. Interment will take place immediately following the service at the Baker Street Cemetery in West Roxbury.
Family and friends are welcome to visit with the Ravech family at 31 Sunnyside Road in Needham immediately following the interment until 9:00 pm, and on Monday, Tuesday, and Wednesday from 2:00 pm - 4:00 pm and from 7:00 pm - 9:00 pm. Minyan services will be held each evening.
According to the Elliot & Co. website, Ravech founded Elliot & Co. in 2002. He continues to oversee the company's overall direction and operation while heading its leasing and investment sales efforts on behalf of tenants and landlords, buyers and sellers.
Prior to founding Elliot & Co., Mr. Ravech was a principal at– principal at Peter Elliot & Co., a diversified real estate firm with offices in Boston, New Jersey, Atlanta, New York and Dedham, Mass., from 1975-2002. The company focused on leasing, investment and property management. The firm also specialized in development, development consulting, real estate advisory work, work-outs and arbitration.
Between 1970 and 1975, Mr. Ravech worked with real estate development company Marlboro Investments/Kanavos Enterprises. While there, he helped develop such high-profile properties as Dedham Plaza in Dedham, Mass., Marlboro Plaza in Marlboro, Mass., and Holiday Inns in Dedham, Marlboro and Peabody, Mass., and Parsippany, N.J. He also had a hand in the development of 545 Boylston St. in Boston and the 1,200-acre Marlboro Industrial Park in Marlboro and Northborough, Mass.
Prior to that, Mr. Ravech worked with Lilly Construction, assisting in the development of apartments in Boston, Chestnut Hill, and Brookline, Mass., and The Chase Building at 535 Boylston St. in Boston. Mr. Ravech also invested in and helped take took public InterSpec Corp., an importer of high-end custom-made plastic bags for specialty and department stores.
Expressions of sympathy in his memory may be donated to the Boston Children's Hospital League 401 Park Drive, Suite 602, Boston, MA 02215.