Boston, MA The Environmental Business Council of New England (EBC) has named the recipients of the 2017 EBC Ascending Leader Award. The award recognizes young, ascending professionals in the energy and environmental sectors demonstrating exceptional leadership and industry involvement early in their careers. Recipients were honored at the EBC Annual Summer Garden Party on August 10 at the Exchange Conference Center in the Seaport. The recipients are the following: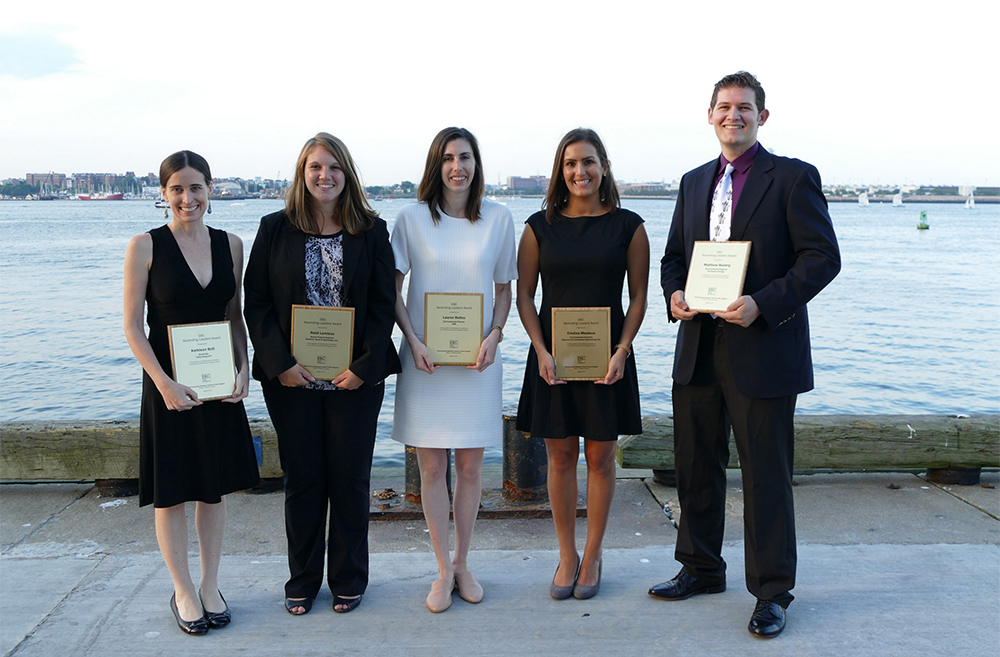 • Lauren Ballou, environmental planner, VHB - Ballou is an environmental planner and project manager in VHB's Watertown office with six years of professional experience. She leads both Massachusetts Environmental Policy Act (MEPA) and National Environmental Policy Act (NEPA) environmental studies for transportation clients. She provides innovative solutions to sustainability challenges, with experience supporting airports, local governments, and state agencies with sustainability planning and implementation. Ballou is a systems thinker with a sound technical understanding of the many disciplines involved with sustainability and environmental planning. Ballou is an active member of WTS-Boston, serving on the Mentoring Committee and as a co-chair for the WTS International 40th Anniversary Ad-hoc Committee. She is an ISI Envision Sustainability Professional (ENV SP) and a Greenroads Sustainable Transportation Professional (STP).
• Kathleen Brill, associate, Foley Hoag LLP - Brill is an environmental, land use, and energy attorney at Foley Hoag, LLP. For 40 years, Foley Hoag has maintained one of the leading environmental law practices in New England and beyond. Brill was recently recognized as a leading practitioner of environmental law by Chambers USA, the publisher of the leading international guide to lawyers. At Foley Hoag, she helps the firm's clients in the public, private, energy, institutional, and development sectors acquire, protect and develop properties; secure local, state and federal permits; and address complex regulatory matters. She has considerable experience in MEPA/NEPA, Chapter 91, and Clean Air Act permitting and compliance. Kathleen recently helped secure the environmental and land use approvals that will bring museum exhibition space from the Institute of Contemporary Art to the historic East Boston Shipyard, an exciting project that incorporates adaptive reuse of historic structures and an innovative cross-harbor transportation component.
• Heidi Lemieux, senior project engineer, Sanborn, Head & Associates, Inc. - Lemieux is a senior project engineer at Sanborn, Head & Associates, Inc. in Concord, N.H. Lemieux provides support for a variety of projects including phase I environmental site assessments, hazardous waste site characterization projects, remedial construction projects, and hydrogeologic investigations. She is experienced in managing Brownfields due diligence activities, plays a key role in several of Sanborn Head's projects with NHDOT, and has worked on multiple sites throughout New Hampshire and Vermont. Lemieux is also a certified Asbestos Disposal Site (ADS) worker, and was the designated ADS monitor/engineer on-site for the consolidation of nearly 20,000 cubic yards of asbestos-contaminated soil as part of the Broad St. Parkway project in Nashua.
• Cristina Mendoza: Environmental Scientist (II), Capaccio Environmental Engineering, Inc. - Mendoza has been working full-time at Capaccio as an environmental scientist/sustainability consultant since June 2015, and was promoted to the ES II level in January 2016. Mendoza's experience and expertise include corporate sustainability reporting and consulting, greenhouse gas reporting and sustainability metrics tracking and analysis. Other experience and expertise include environmental reporting and ISO 14001 Management Systems development. Cristina leads the Sustainability Technical Group for Capaccio and is responsible for technical expertise, internal resource development, and technical group strategy. She also leads the Management Systems Technical Group for Capaccio, holding similar responsibilities. Along with technical project execution, Cristina is a Project Manager and EHS DashboardTM Account Manager.
• Matthew Waldrip, Environmental Engineer, Eversource Energy - Waldrip is responsible for overseeing environmental permitting, siting, and regulatory compliance for electric and gas transmission and distribution projects. At Eversource, he has developed a track record of permitting high-profile, complex, and time-sensitive energy projects. In addition to leading permitting efforts, Waldrip recently supervised the design and construction of three Eastern Box Turtle nesting areas on Eversource Rights-of-Way throughout Mass. He also coordinates a yearly turtle training with the Mass. NHESP which teaches 100 contractors how to identify and protect state listed turtle species during construction. Waldrip has previously served on the boards of the Society of Wetland Scientists and Society of Ecological Restoration's New England Chapters. He holds two professional certifications: a Certified Erosion, Sediment, and Stormwater Inspector (CESSWI) and a Professional Wetland Scientist (PWS). He earned dual Bachelor of Science degrees from Westfield State University, one in Environmental Science and another in Regional Planning. Matt has also presents at GIS conferences to discuss GIS technology in the energy and environmental industries.
The Environmental Business Council of New England (EBC) was established in 1990 by environmental and energy company executives who began meeting on a regular basis to exchange ideas and share experiences. The EBC was the first organization in the United States established to support and foster the development of the environmental industry. The goal of the EBC is to enhance business and job growth of both established and emerging environmental and energy businesses.