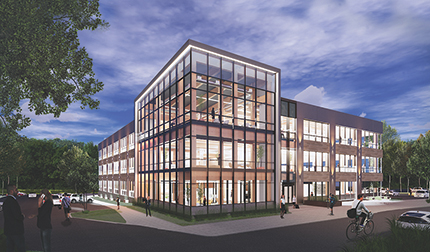 Newington, NH Farley White Interests broke ground on 90 Arboretum Dr. – the first office building in New Hampshire to be built using Mass Timber construction. The building was designed by SGA Architects and will provide 72,000 s/f of Class A office space at Pease International Tradeport.
Sustainability and environmental impact are at the top of mind for many decision-makers across industries today. When Farley White was considering the construction of this building, Mass Timber was the clear construction method of choice by not only being a differentiator in a sustainability-driven market but also environmentally responsible. Mass Timber refers to a load-bearing system where wood is used as the primary structure as opposed to concrete and steel. According to Nordic Structures (the construction manufacturer for the project), wood production emits ~30% less carbon dioxide (CO2) than concrete or steel. And, once the CO2 sequestered in its fiber is counted, wood is actually carbon negative. Farley White has also prioritized energy efficiency through their HVAC selections – the building will utilize an energy recovery makeup air unit which, depending upon the season, recovers the heat or coolness of the exhaust air and applies it to the fresh air makeup. Additionally, all heating and cooling is accomplished by Daikin Variable Refrigerant Volume equipment, which moves heat or coolness within the building to where it is needed, thereby reducing overall energy consumption.
Farley White Interests' principals John Power and Roger Altreuter were joined by governor Chris Sununu, representatives from Cushman & Wakefield, Nordic Structures, the Pease Development Authority and many others for the official groundbreaking on October 17th. Construction is to be completed by summer 2020.
"We're excited to continue our role in developing, owning and managing exceptional office space in New Hampshire and specifically in the Seacoast market at Pease International Tradeport" said John Power, principal at Farley White Interests. "Bringing the first Mass Timber Class A office building to New Hampshire is a step in the right direction and provides new benefits to what is already an attractive office location."
"This building sets a new bar for office space, not only here in the Portsmouth market, but across New Hampshire" said Denis Dancoes II, senior director at Cushman & Wakefield. "The benefits of Mass Timber are becoming more and more evident to developers and office occupiers alike; healthier and more aesthetically pleasing buildings with a significantly smaller carbon footprint." Tenants at 90 Arboretum Dr. will enjoy the opportunity to work in the first Mass Timber office building in New Hampshire, providing a beautiful aesthetic and abundant natural light alongside energy efficiency, while located only 10 minutes from downtown Portsmouth. The location provides quick access to I-95, Boston, MA, Manchester, NH, and Portland, ME and amenities including nearby running trails, Pease International Airport and the 27-hole Pease Golf Course. This development is being represented and marketed by Cushman & Wakefield.