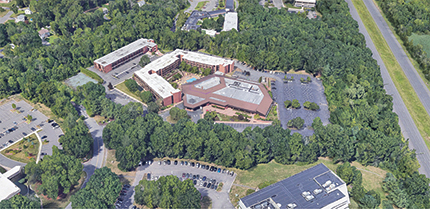 Farmington, CT The town plan & zoning commission approved CLP Farmington LLC's application for a zone change and site plan approval to redevelop the existing former Marriott Hotel at 15 Farm Springs Rd. as a mixed use, multifamily/commercial development.
The former 381-room Marriott Hotel, which was built in 1981, will be converted to 225 new studio, one, two and three-bedroom luxury apartments. Units will include well-appointed kitchens with stainless steel appliances, stone counters tops, and in-unit washer/dryers. The pools, fitness center and courtyard areas will undergo extensive improvements and architectural and landscaping enhancements will be made throughout the property. The redeveloped community will also include updated event and meeting spaces, as well as a new coffee shop and restaurant.
"We're excited to meet a growing need in Farmington and throughout the area and develop a new multi-family community with robust amenities, convenience and luxury," said Jason Schlesinger, owner of CLP Farmington LLC. "We look forward to creating a vibrant live, work, play community and becoming one of the premier multi-family communities in the Greater Hartford area."
Construction on the project will begin later this summer with competition expected by the spring of 2022. Leasing will begin in January of 2022.