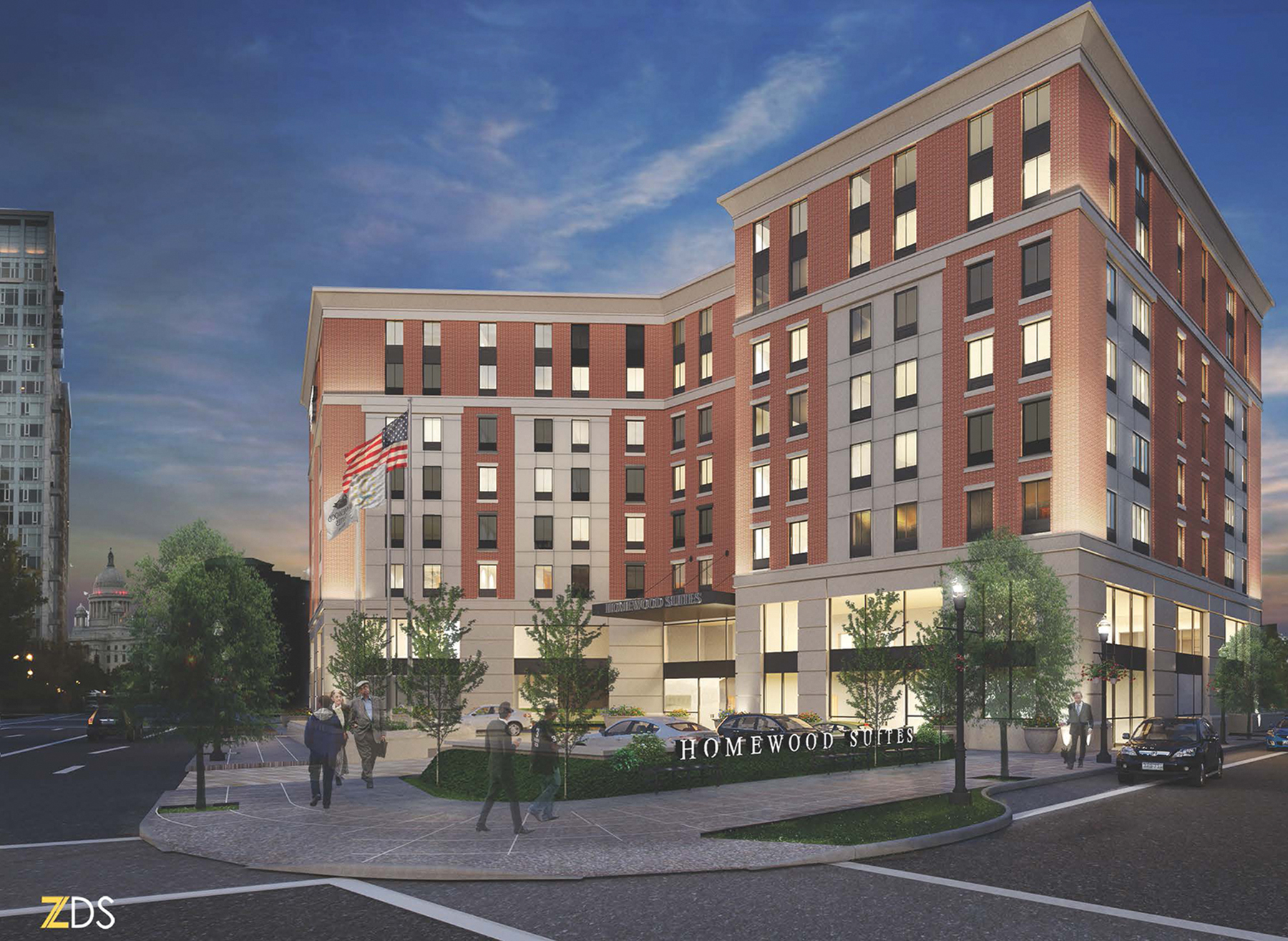 Providence, RI Joint venture partners First Bristol Corporation and Paolino Properties are nearing completion of a $30 million Homewood Suites by Hilton "All-Suites" Hotel at 5 Exchange St. in downtown.
The six-story, 120-room extended stay hotel is located at the once-vacant lot at the intersection of Exchange St. and Memorial Blvd. Working together, First Bristol and Paolino Properties were able to purchase the property acquired from the Providence Redevelopment Agency. The property, vacant for fifteen years, was necessary to make the project viable. The hotel is expected to be completed in early 2019 and is anticipated to generate more than $900,000 annually in property and hotel sales and room tax revenues.
"For years, developers have tried to build on this site, which was once part of the Providence River," said Joe Paolino, managing partner, Paolino Properties. "Working with Jim Karam and his team at First Bristol, we were able to creatively solve issues that other parties faced to make the project viable."
Chief among the obstacles was an unstable base due to geotechnical issues and large pieces of old concrete and granite, which created soils susceptible to differential settling. The developers preloaded the site to mimic the constructed building, and created compaction to minimize future settling after construction. Further, they used rapid RAM compaction, which sends vibrations to close air pockets in soil below grade to further reduce settlement.
First Bristol and Paolino Properties also garnered support from the Rhode Island Commerce Corp., securing a 15-year Tax Incremental Financing agreement. It also received a 10-year tax stabilization agreement from the city of Providence, both of which were necessary to make the project possible.
"First Bristol Corp. and Paolino Properties have a long track record of developing first-class projects and staying actively engaged in the communities we serve," said First Bristol CEO Jim Karam. "Our goal with this hotel, our second in Providence, like our other developments throughout New England, is to build a property the city and the entire region will be proud of."
Tocci Building Corporation of Woburn, Mass. is the project's construction manager and ZDS of Providence is the architect. Many of the hotel's design elements, including the building façade, were approved by the Capital Center Commission and designed to complement the historic buildings surrounding Kennedy Plaza and the future transportation hub, all of which are within walking distance of the property.