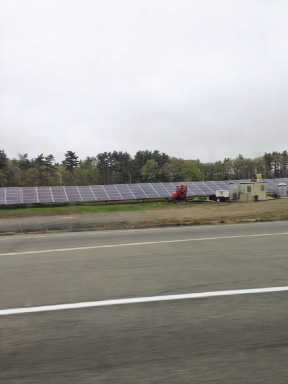 NECA Boston contractor, Fischbach & Moore Electric Group, LLC, of Boston, is nearing completion of the installation of four solar arrays totaling 1.9MW for the Massachusetts Department of Transportation (MassDOT). The solar fields are located on MassDOT land adjacent to the Massachusetts Turnpike at the Framingham 13 South and North Interchanges, the Framingham Service Plaza, and in Natick on I-90 Westbound. The NECA contractor has managed a field crew of 18 IBEW electricians throughout the project, which commenced in February and is scheduled for completion soon.
During the winter of 2015, the crew worked through nearly nine feet of snow in order to keep the project on schedule.
The Fischbach and Moore project team is headed by project manager Jim Bradley, foremen Ross Hagen, Peter Connell and Eathan McMahon, site superintendent Charlie Leigh, and estimator Steve Hopkins.