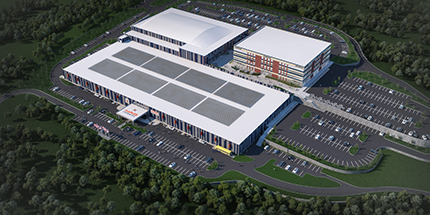 Amesbury, MA Global Property Developers Corp. (Global) will hold the groundbreaking for Maples Crossing, which will take place on September 26. Governor Baker and secretary Kennealy will be in attendance at the private event.
Maples Crossing will offer a variety of dining, entertainment, health & wellness, business and sport facilities. With the groundbreaking, the Global team will begin work on the 420,000 s/f development, which will include a 2,500 seat event center, six hockey rinks and 150,000 s/f of multi-use leasing opportunities.
Formerly known as the Atlantic Center, the development was re-branded as Maples Crossing to pay homage to Amesbury's hockey history. The name is a nod to the Amesbury Maples, America's oldest amateur hockey club.
"The name Maples Crossing recognizes the importance of Amesbury and New England in our nation's hockey history," said Mike Gorman, general manager for the property. "We wanted the development to stay true to Amesbury."
Once complete, Maples Crossing will be New England's premiere destination. Built at 24 S. Hunt Rd., the 50 acre lifestyle and entertainment complex will sit on the hill, adjacent to Amesbury Sports Park.
"At Global, we are excited to take the next step in developing a sports, business and entertainment complex in Amesbury," said Steve Callahan Sr., president of Global. "Maples Crossing will be a trailblazer in multi-use concepts, and we are eager to engage a diverse audience with innovative businesses and interactive experiences."
Rendering credit Mitchell Atwater, DJIS Visual Media Services