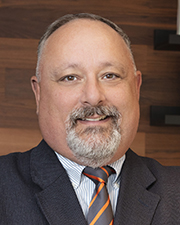 Simsbury, CT Phase Zero Design, a locally focused, nationally present architecture and interior design firm, continues to grow. Joining the team in 2019 as healthcare principal, Ron Goodin has been made a partner and shareholder of the firm. Goodin's leadership within the firm and successful growth of the healthcare market has elevated the firm's culture, growth, and business strategy. He has lead successful design and construction on some of Phase Zero Design's most impactful projects to date, such as Bristol Hospital's Emergency Department addition and renovation.
"Adding Ron to our leadership group was a no brainer," said Matt Wittmer, co-founding principal of Phase Zero Design, "he has positively impacted staff, projects, and clients. We are incredibly lucky to have him help propel the firm forward."
Goodin's unique professional background–having sat on all sides of the table–provides the Phase Zero Design team and its clients with the experience and expertise to get the job done on budget, on time, and on vision. His ability to connect and collaborate with both end-users and client-side stakeholders at every level is perhaps his most unique quality. Goodin leads his team to develop invigorating design that truly prioritizes both staff and patient experience.