Middletown, CT Greenskies Renewable Energy LLC and its affiliates, has been purchased by Clean Focus Yield Limited of Sunnyvale, CA with offices in New Jersey, and Massachusetts and an affiliate in China.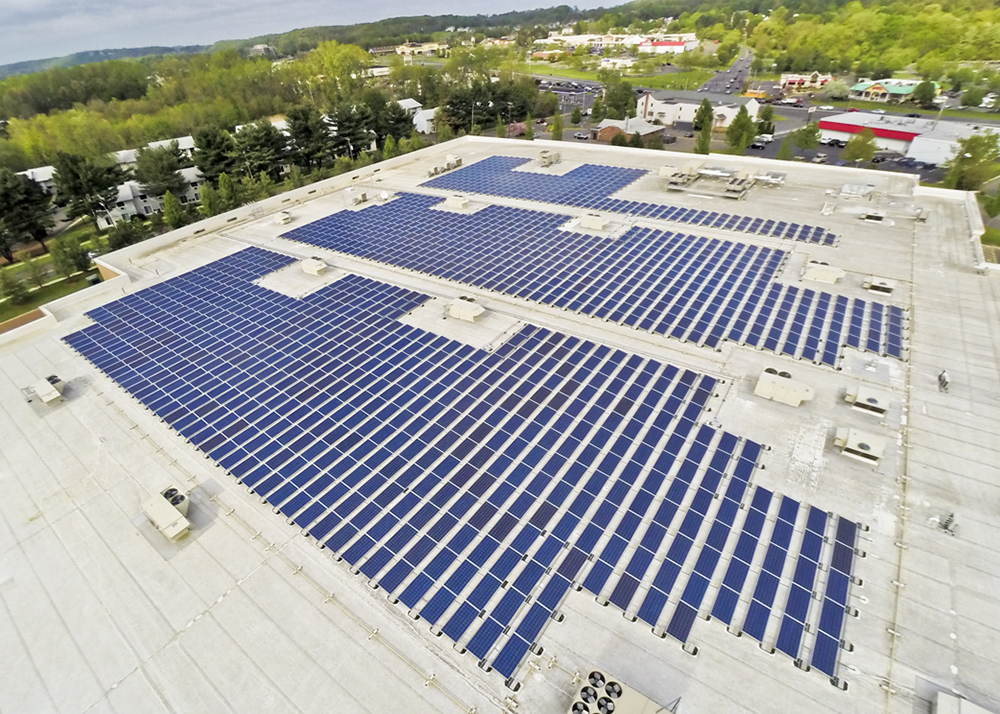 Greenskies said, "Clean Focus is an integrated group of renewable-energy companies with "global reach." According to the companies, "with this acquisition Clean Focus becomes the owner and operator of the largest commercial and industrial portfolio in the United States."
Greenskies, is a vertically-integrated solar company in the United States, and will continue to operate under its brand and management from its Connecticut headquarters.
In 2016 the Connecticut Technology Council named Greenskies among the 40 fastest growing tech companies in the state. Westbrook republican senator Art Linares Jr. an assistant minority leader and Mike Silvestrini founded the company in 2008 in a Westbrook basement, it currently has 70 full time employees.
Stanley Chin CEO of Clean Focus is now the CEO of Greenskies, but the day to day is run by company president, Will Herchel, who has been CEO since 2016 and first joined Greenskies in 2012.
A release from Greenskies said, "all current Greenskies employees in Middletown will remain based at company headquarters, with additional personnel growth in Connecticut and across the country to support its rapid expansion."
Robert Landino, CEO of Centerplan, and Art Linares Sr., a veteran businessman and entrepreneur and Silvestrini's then future father-in-law, helped fund the company. Landino was the initial chairman of the Greenskies board and the 2014 Business New Haven Businessperson of the Year. Landino's Centerplan Construction has been in a dispute with the City of Hartford over the construction of Dunkin Donuts Park, home of the minor league baseball team the Hartford Yard Goats and the wider development.
Greenskies was recognized as having the largest share of the commercial and industrial market in the nation during the first quarter of 2016 [5.5%] according to Greentech Media a leading research and data tracking firm for the solar industry.
Clean Focus adds to its already large commercial, industrial, and small-utility portfolio with the purchase of Greenskies and its operating portfolio. This acquisition makes Clean Focus one of the largest and fastest growing commercial solar developers and operators with a national footprint. Greenskies will benefit from increased financial resources and international scale to accelerate growth and to deliver best-in-class service to its customers.
Stanley Chin , said, "Clean Focus is excited to add Greenskies to its integrated group of companies. This acquisition strengthens Greenskies, grows Clean Focus, and provides new opportunities for our customers and financing partners," adding, "we look forward to accelerated growth across a wide breadth of markets."
The company says, Greenskies expects to expand its base of large corporate and retail clients, including Fortune 50 national big-box retailers, government entities, and utilities. Greenskies intends to build out its project pipeline of 350 MW and expand into new segments including schools, hospitals, and community solar.
Herchel said, "this purchase and investment is the next big step for Greenskies. We have seen explosive growth over the last five years, and this infusion of capital adds jet fuel to our business engine."