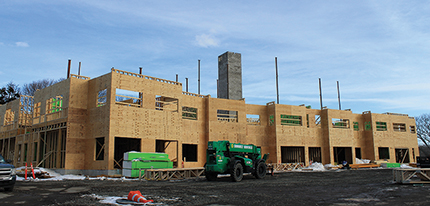 Swampscott, MA After a lengthy approval process, and the demolition of an abandoned 100,000 s/f school building, Groom Construction is well underway with the construction of a new 60,000 s/f condominium project for owner Fisherman's Watch Condominiums, LLC.
The five-story building is being constructed at the highest point in town, with many of the units having ocean views and the Boston skyline. The building will have 28 units that range in size from 1,400 to 2,300 s/f for the larger of the two-story penthouses. The building will have underground parking, a fifth floor club room, and an exercise room. In addition, the first floor units will all have private patios and gardens, and the developer is planning a walking trail that encircles the two-acre site.
The developer and Groom Const. teamed up with Grazado-Velleco Architects on the design of the project, and with LDA Architects on the interiors. In doing so, a concept was created that would take every opportunity to design and construct a building that would not only replace the old abandoned school building but would also fit comfortably into a residential neighborhood dominated primarily by one-and two-family homes. In doing so, the concept was to step the building from the road, on several levels, in order to visually reduce the mass of the building. Hip roofs and shingle styles were also incorporated that are in keeping with the surrounding and period architecture.