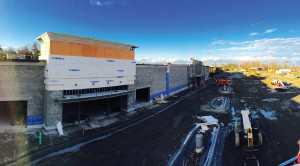 The Shoppes at Latham Circle - Colonie, NY
Southborough, MA Grossman Development Group (GDG), a retail and mixed-use developer, has several projects either underway or in its development pipeline.
In 2014, Howard Grossman was part of a group that opened The Mirbeau Inn & Spa at the Pinehills in Plymouth, Mass., a boutique hotel with a 14,000 s/f spa, bistro and wine bar and fine dining French restaurant.
Another GDG development project, The Shoppes at Latham Circle in Colonie, N.Y., has opened Walmart Supercenter, with Bob's Furniture, Burlington Coat and a Noodles & Company restaurant under construction.
In Worcester, Mass., GDG purchased and expanded the Goodyear facility on Grafton Street. GDG also has its approvals in place for Lakeway Commons in Shrewsbury, Mass. The 375,000 s/f mixed--use development is comprised of a Whole Foods--anchored retail center, 250 apartments and 14 for--sale townhomes. Confirmed restaurant tenants include Burton's Grill and Tavern in the Square, along with Starbucks.
The latest project in the GDG portfolio is the proposed redevelopment of Berkshire Mall in Lanesboro, Mass. More news on this project and other developments in the planning stages is expected in the near future.