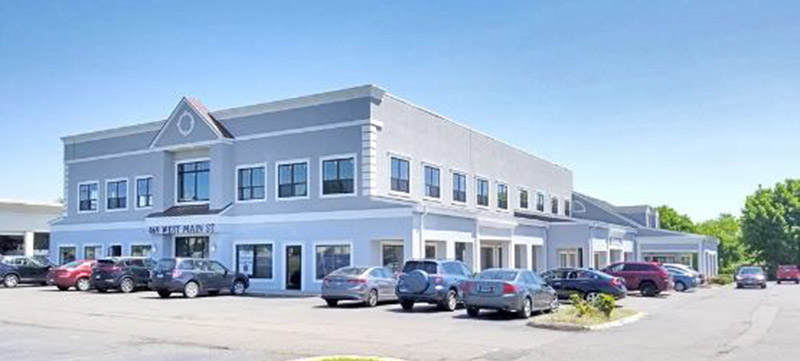 Branford, CT O,R&L Commercial, LLC has completed two office leases totaling 8,100 s/f, located at 469 West Main St.
The owner of the building, 469 West Main Street, LLC, recently expanded the building, grounds and all parking lot areas in 2019. Originally built in 1986 the upgraded facility now includes an expanded full second story of 8,100 s/f which will be accessed via two new lobby areas and a newly installed elevator.
The new tenants will be occupying the entire second floor space and will take occupancy upon the build-out of their spaces this September/October.
An office lease of 3,750 s/f was leased to Wells Thomas, LLC a retirement and wealth management firm. Wells Thomas will be expanding their practice, currently located on East Main St., to the new Branford Hill Plaza location on West Main St. Wells Thomas provides consulting and administrative services for over 900 retirement plans including: 401(k), profit sharing, prevailing wage, 403(b), 457, cash balance and traditional benefit plans. With an average of more than 20 years' experience in the field, each staff member is focused on providing straightforward yet comprehensive strategies that best fit the individual needs and objectives of each and every client.
Richard Guralnick, CCIM and Toby Brimberg of O,R&L Commercial represented both the landlord, 469 West Main Street, LLC and the tenant, Wells Thomas in the transaction.
A second office lease consisting of 4,350 s/f was leased to More To Say, LLC, a pediatric therapy and wellness practice. More To Say provides evaluation and treatment of speech, language, literacy, feeding, fluency, sensory, fine motor, and gross motor disorders as well as enrichment programs for children of all abilities. They utilize holistic, naturalistic, child-centered approaches and focus on building relationships with their clients' families.
Guralnick and Brimberg represented both the landlord and the tenant More to Say, LLC.