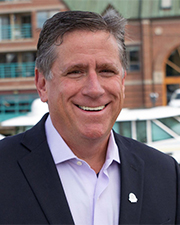 Portland, ME Malone Commercial Brokers' Pete Harrington has been honored with the Maine Commercial Association 2022 Realtor of the Year Award.
Harrington, partner and associate broker at Malone Commercial, has been a leading retail leasing and sales expert of commercial property in the Greater Portland area since 1996.
In 2022 alone, Harrington placed top tenants Harbor Fish, Rosemont Market, Burano's Woodfired Pizzeria, Raise Playspace, Stretch Lab, and Maniac Community Fitness in the repurposed Scarborough fire station complex, Firehouse Village and brokered sales transactions including 30 Exchange St. for $2.4 million up to 100 Foden Rd. medical complex for $30 million.
Harrington's real estate career includes office, retail, and industrial leasing and sales as well as multifamily and investment sales in Portland's Historic Old Port, downtown, the Arts District and all throughout Maine.
His passion for his work has led Harrington to many positions within industry organizations over his lifetime career as a commercial broker in Maine. In addition to the commercial sector, Harrington has broken barriers by becoming the first commercial broker to be elected to several real estate organizations made up primarily of residential professionals.
Malone Commercial Brokers is proud to celebrate Harrington along with our fellow industry professionals.