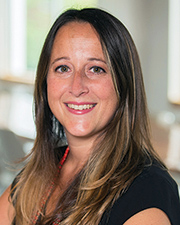 Newton, MA National Development has named Leah Harsfield as a principal of the firm. Harsfield joins the company's senior leadership team while continuing to serve as director of leasing, where she oversees leasing strategy for National Development's commercial portfolio.
Harsfield joined National Development as an asset manager in 2013 and has participated in the lease up of many retail, office, life science, and industrial projects such as The District Burlington, Meadow Walk in Sudbury and 15 Necco in Fort Point. She works closely with the investment and development teams to execute leasing strategies for National Development's diverse portfolio.
She serves a key role in identifying new industry trends, managing strategic tenant relationships and implementing best practices.
As a Principal, she will continue to play a leadership role with the asset management team as well as bring her perspective to additional firm wide initiatives.
"Leah has been at the forefront of many of our most successful projects, and has shown great expertise and leadership in the areas of leasing, asset management and client relationships," said Andrew Gallinaro, Managing Partner and Director of Acquisitions, National Development. "We are excited to recognize Leah in this new role as Principal, and we look forward to benefiting from Leah's perspective in the management and direction of National Development."