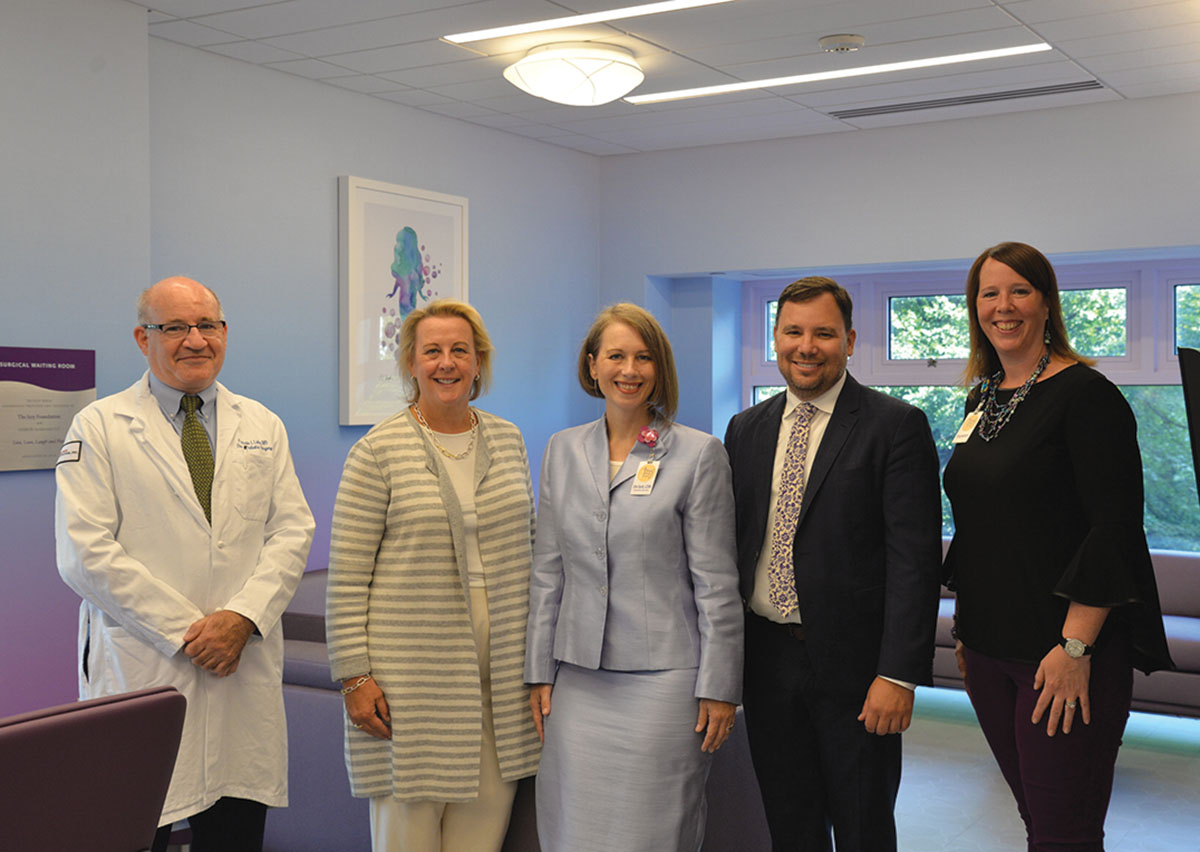 Providence, RI Hasbro Children's Hospital and The Izzy Foundation unveiled a new 950 s/f pediatric surgical family waiting room on the hospital's second floor. The space offers families of children undergoing surgery at Hasbro Children's a modern waiting room to spend their time during a loved one's procedure. The room also provides additional private consultation space for physicians and surgeons to meet with families.
"When a child is in surgery, it is understandably a very difficult time for parents and families. Having a space that takes into consideration a family's need during such a stressful time is incredibly important to all of us and underscores our commitment to delivering health with care," said Margaret Van Bree, president of Rhode Island Hospital and Hasbro Children's Hospital. "We are thrilled to have the continued support of The Izzy Foundation and this amazing new room available to the families that depend on us for care."
A collaboration of Hasbro Children's and The Izzy Foundation, the pediatric surgical family waiting room has been in development for two years to align with the hospital's Every Child, Every Day campaign to modernize the hospital and create new healing spaces to care for the next generation of kids. It was designed by Thomas Morbitzer of New York City-based Ammor Architecture.
The Foundation, together with the hospital, worked closely with Morbitzer to design and expand an area that will impact families in a positive way and allow them to create their own private space within the room.
Some of the room's comforts include a kitchen area with dining for families to eat together, couches and a television area, private consulting space that doubles as a breastfeeding room, and a computer counter for work space.
Other features are an upgraded LCD screen for families to monitor procedure progress, private lockers, and integrated USB charging ports.
"The Izzy Foundation is ecstatic that Hasbro Children's has provided us another area in the hospital to create our second Izzy Space," said Erin Scott, executive director of The Izzy Foundation. "Not only does this room help to advance family-centered care by offering families a comfortable and peaceful environment, its new consulting space provides families with extra privacy to express their emotions and discuss their child's surgical outcome – we couldn't be more excited to see this project come to fruition."