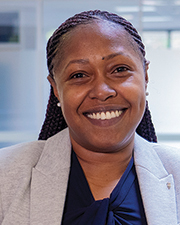 Quincy, MA New England construction management firm Dellbrook|JKS welcomes Sheryce Hearns as its new director of diversity, equity and inclusion.
Hearns will play a significant role in growing internal diversity, expanding outreach efforts in communities across greater Boston and New England, as well as foster equity and inclusion at Dellbrook|JKS.
Dellbrook|JKS's continued growth, recent internal expansion, and focus on supporting employees during a challenging year makes Hearns' role more important than ever.
"I am excited to join the Dellbrook|JKS team," said Hearns. "I believe that they have laid a great foundation for creating more diversity, equity and inclusion internally as well as on the projects and communities they work and live in. I look forward to building on that foundation and furthering their commitment to employees, trade partners, local businesses, and residents."
Hearns brings more than 16 years of experience working with the City of Boston in project management, workforce compliance, M/WBE participation monitoring, and equity strategy planning. She has spent the last four years in the Mayor's Office of Economic Development as Deputy Director of Equity and Inclusion working on improving the City's procurement practices, efforts to do business with minority and women owned businesses, and creating new policies, programs and processes to support the economic development and growth of those businesses.
"I'm incredibly excited about Sheryce joining the team," said Dellbrook|JKS CEO Michael Fish. "She is passionate about what she does, is a team player, and will fit well into the culture we have built."