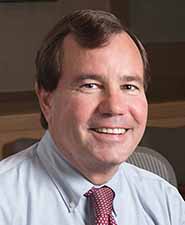 Concord, NH Kenneth Holmes, CEO and former president of North Branch Construction, has retired after thirty years with the firm. Prior to working at North Branch Construction, Holmes, a Dartmouth College graduate, worked for an investment bank in New York before starting his own real estate development and construction management company in New London, N.H. in 1987. Holmes has been a practicing EMT-B for over 36 years and volunteer certified firefighter for the Newbury Fire Department for over 30 years.
Holmes joined North Branch Construction in 1989 as a project manager and became a principal and vice president in 1990, general manager in 1996, and the president of the company in 2006. He accomplished many things throughout his time with North Branch Construction. Holmes successfully navigated the company through the Great Recession; at a time when many companies were going through significant layoffs or, worse, closing their doors forever, North Branch Construction prospered.
In 2009, Holmes received nation-wide attention for leading the charge to successfully defeat an unlawful and discriminatory government-mandated project labor agreement (PLA) enforced during the solicitation for bids to construct the new Job Corps Center in Manchester, N.H. "Our company and other New Hampshire businesses deserve a fair opportunity to provide the public with the best construction product at the best price," Holmes had stated during the protest.
In 2018, Holmes took on the role of CEO at North Branch Construction and Joseph Campbell stepped into the position of president. "I am extremely honored and proud of the company that I have had the pleasure to work for over the last nearly 30 years," Holmes said in a recent company-wide memo. "and there is no doubt that North Branch Construction, under the leadership of Joe Campbell as president with the support of his partners, Bruce Blazon, Jim Schwartzkopf, and Chris Galbraith, as well as all of you, will continue to flourish."