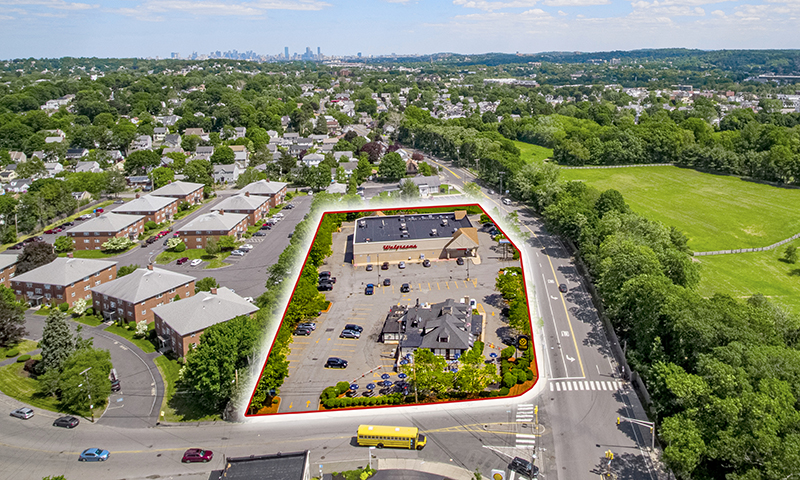 Waltham, MA Bob Horvath and Todd Tremblay of Horvath & Tremblay have completed the sale of Walgreens and John Brewers Tavern. Horvath & Tremblay exclusively represented the seller and procured the buyer to complete the transaction at a sale price of $10.4 million.
The Walgreens and John Brewers Tavern are located at 21 & 39 Main St. The two adjacent, fee-simple properties are leased to Walgreens and John Brewer's.
Walgreens, located at 21 Main St., has been at the property for more than 22 years and just exercised two of their renewal options early, demonstrating their commitment to the site and the market. Walgreens has 12+ years remaining on their lease with five, 5-year renewal options. John Brewer's, located at 39 Main St., has been at this location for more than 22 years.
21 Main St. contains a 13,855 s/f freestanding Walgreens with a drive-thru on a 1.06-acre parcel. 39 Main St. contains a 6,257 s/f freestanding John Brewer's on a 0.72-acre parcel.
The properties are well located at the intersection of Main St. (U.S. Rte. 20) and Warren St. in a high-density residential neighborhood 1.5-miles from downtown and its shops, restaurants, and nightlife as well as Bentley University. The property is located 10 miles to the west of Boston and less than three miles from both I-90 (the Mass Pike) and I-95 (Rte. 128) offering access to Boston, Cambridge, and the Rte. 128 Technology Corridor.