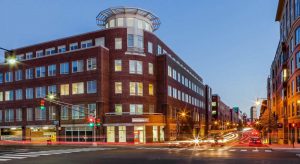 Canal Park - Cambridge, MA
Cambridge, MA Intercontinental Real Estate Corp., a national real estate investment, development and management firm headquartered in Boston, has acquired the Canal Park Portfolio, a recently renovated three-building creative office campus totaling 425,730 s/f of combined office and retail space. This acquisition, made on behalf of Intercontinental's U.S. Real Estate Investment Fund, LLC (USREIF) was led by Mike Keyes, director, acquisitions. According to sources the property was sold  for $304 million.
One Canal Park is a 4-story, 101,128 s/f building with 85,460 s/f of office space and 15,668 s/f of retail space. Two Canal Park is a 5-story, 206,567 s/f building with 197,397 s/f of office space and 9,170 s/f of retail space. Ten Canal Park is a 6-story 118,035 s/f building with 107,650 s/f of office space and 10,385 s/f of retail space. The three office properties were developed in 1983, 1987 and 1999 – all of which were renovated in 2015.
The Canal Park portfolio is located across the Charles River from downtown Boston. The location provides access to Harvard Sq., Downton Boston, Back Bay and the Greater Boston suburbs.
Canal Park - Cambridge, MA
Intercontinental CEO Peter Palandjian said, "This investment represents every characteristic we seek in a 'core' investment: primary market, high quality construction, transit friendly location, and high quality occupancy. Plus, this investment is directly in our 'backyard,' We have invested successfully in Cambridge going back 5 decades."
Intercontinental Real Estate Corporation is an SEC registered investment adviser with decades-long experience in real estate investment, finance, development, construction management and asset management. Since 1959, Intercontinental has managed, developed, and owned over $10 billion in real estate property. Today, Intercontinental manages a portfolio in excess of $6 billion for its clients. The Intercontinental portfolio is diversified both by robust property mix and by geography. Fund strategies actively seek opportunities to invest in both core and core plus, as well as value-add development projects.