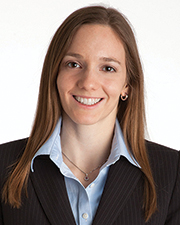 Boston, MA According to law firm Sherin and Lodgen LLP, Jennifer Ioli, an attorney in the firm's commercial real estate department, moderated the roundtable, "Putting the 'Use' in Mixed Use: Negotiating Leases to Protect Against Abutting Tenant Disputes," at the International Council of Shopping Centers (ICSC) U.S. Law Conference on October 25 in San Diego.
Ioli is a commercial real estate and environmental attorney with experience in acquisitions, development, leasing, and financing. She represents retailers, developers, and institutions on all aspects of commercial real estate transactions, including advising on environmental regulation and due diligence.
ICSC serves the global retail real estate industry. Its mission is to ensure the industry is broadly recognized for the integral role it plays in the social, civic and economic vibrancy of communities across the globe. The ICSC U.S. Law Conference provides retail real estate legal professionals the opportunity to gain industry-specific knowledge and insight from leading authorities, network with industry peers, and earn general and ethics CLE credits.