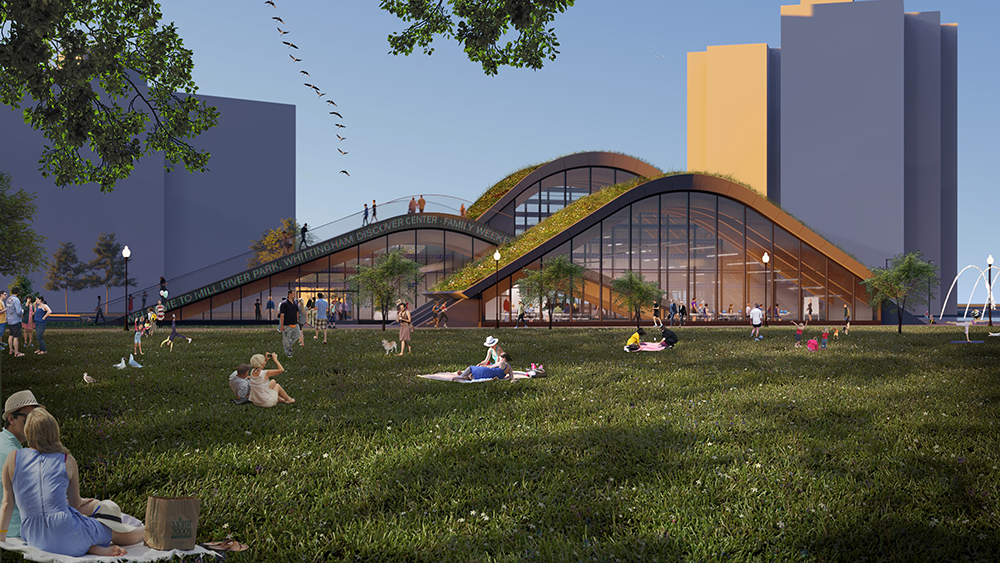 Stamford, CT JCJ Architecture's concept for the Mill River Park Whittingham Discovery Center has been recognized with the Award of Excellence in the "Unbuilt Category" among this year's AIA Connecticut 2019 Design Awards. Demonstrating JCJ's visionary approach, the Discovery Center concept is a critical component in the Mill River Park Collaborative's (MRPC) plans for the 28-acres of renewed public parkland and greenway in downtown.
"JCJ was delighted to be invited by the MRPC in 2017 to propose schemes for a Discovery Center that would enrich and energize this unique greenspace in downtown Stamford," said Peter Bachmann, AIA of JCJ Architecture. "While we were not selected for this important commission, our team is very proud to have been recognized by AIA Connecticut for the design of a facility that would function as both a sustainable and multi-faceted destination within the park and a structure that strongly engaged the landscape."
As part of the search for design teams, the MRPC sought an interactive learning and development center to host educational programs and aspired to create an object of distinction in the landscape. Designed as an operational work of art, the scheme included facilities for interactive exhibits, functional classrooms and labs, support areas for an adjacent ice skating rink, a carry out café, and office and support spaces for employees.
JCJ Architecture submitted the project for consideration by AIA Connecticut as part of its annual program to recognize design excellence in projects in Connecticut or by Connecticut architects. Since 1905, AIA Connecticut has served the architectural profession, encouraging design excellence, working to improve society through a concern for the quality of the built and natural environments. The annual Design Awards recognize projects of both excellence and merit. The selection jury of Bradford Perkins FAIA, MRAIC, AICP, co-founder and chairman Perkins Eastman, NYC; Alan Ricks, AIA, founding principal & chief design officer MASS Design Group, Boston; and Maryann Thompson, FAIA, founder and principal Maryann Thompson Architects, Cambridge, convened on September 26th at AIA Connecticut's New Haven office and adjudicated nine projects for Excellence and nine projects for Merit from a pool of 103 submissions, of which JCJ Architecture's Mill River Park Discovery project was named with the Award of Excellence in the unbuilt category.