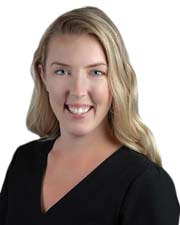 Raymond, NH Jewett Construction has promoted Kat Howland to vice president of employer brand and talent. Prior to her promotion, Howland, who started at Jewett in October 2018, held the title of director of marketing.
"This promotion reflects Kat's many contributions to Jewett Construction," said Greg Stewart, senior vice president of Jewett Construction. "Since joining Jewett Construction three years ago, Kat has played a key role in Jewett's brand development, digital presence, employee-centric company events, and culture initiatives. Through Kat's hard work and her results-driven mentality, Kat has positively impacted Jewett's short- and long-term success and proven herself to be a committed advocate for her fellow Jewett team members."
As vice president of employer brand and talent, Howland will be dedicated to creating a culture where every person within Jewett Construction feels the support of the company and has a transparent view of our future growth and goals. Some of the essential functions of Kat's role include, companywide recruitment and retention initiatives, non-profit / community facing involvement, companywide communication and periodic shared success updates, staff event planning and team building events, strategic marketing leadership, and employee satisfaction check ins.