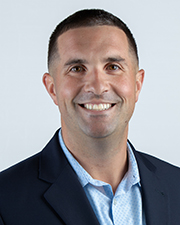 Raymond, NH Jewett Construction has promoted Greg Stewart to senior vice president. Prior to his promotion, Stewart, who started at Jewett Construction in 2015, held the title of vice president.
"Greg is a proven leader with deep knowledge of our industry and his promotion is a natural evolution of our executive team, " said Craig Jewett, president/CEO of Jewett Construction. "Jewett Construction has grown significantly in size, scale, and complexity over the years and we have assembled a talented team of leaders to continue our rich history of serving customers' needs and building shared success. I congratulate Greg on his accomplishment. His drive and commitment to Jewett and its customers make him an excellent fit for this position."
As Senior vice president, Stewart is responsible for the overall business plan, operations strategies, client cultivation and satisfaction, business procedures, project accountability, team member development, and ownership of all construction practices. He maintains the upbeat culture within the Jewett office and ensures the attraction, development, and retention of top-performing staff members.
Jewett is a family-owned construction management company with a 45-year history in New England. Jewett specializes in commercial construction projects.
in the manufacturing, industrial, retail and automotive sectors.