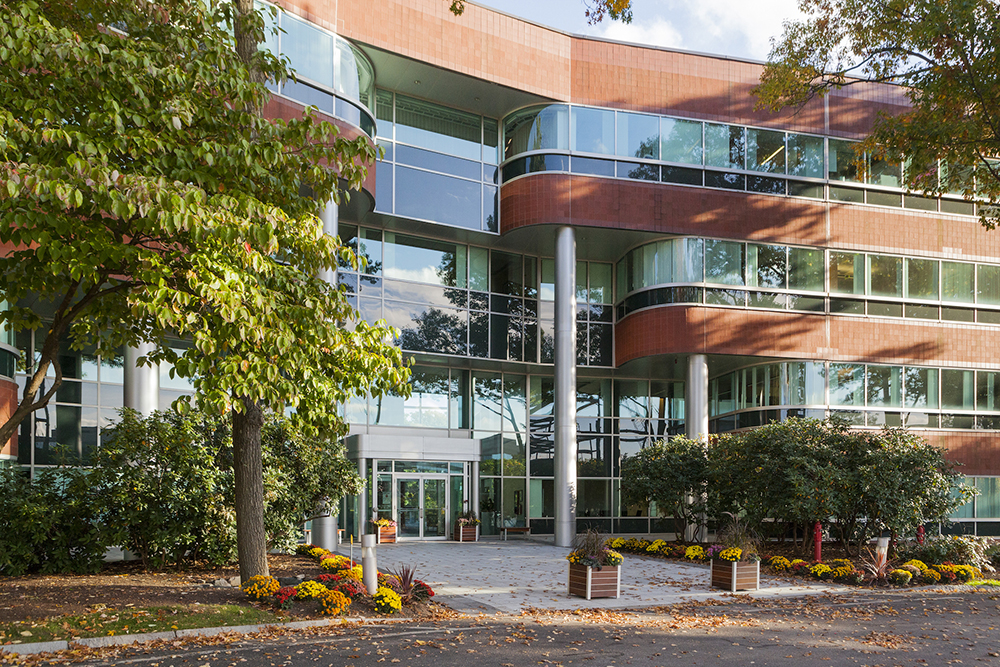 Burlington, MA According to JLL with Griffith Properties and Artemis Real Estate Partners, several new and existing tenants have signed long-term leases totaling 87,000 s/f at One and Three Burlington Woods. The largest transaction was Philips Color Kinetics leasing 59,326 s/f at Three Burlington which includes a renewal and expansion of existing space. Qstream relocated to the park taking 10,561 s/f at One Burlington, while DirectPath, Joule Staffing Solutions, CustomerGauge, SS&C Technologies, and Unit4 also signed or renewed leases at the first class office campus.
JLL managing director Brian Tisbert, senior vice president Tyler Spring, and assistant vice president Jordan Yarboro represented the building's owners Griffith and Artemis in the transactions. Yarboro, along with JLL senior vice president Chris Decembrele also negotiated on behalf of Unit4, while JLL managing director Tamie Thompson represented DirectPath.
One and Three Burlington Woods is a 272,339 s/f class A office campus. Visible and accessible, this property is located off Rte. 128, I-95 and Rte. 3. In addition to being adjacent to the Burlington Marriott and close to the Burlington Mall and Wayside Commons, the campus offers tenants bike sharing, electric car charging stations, and basketball hoops.
The properties recently underwent an extensive renovation and modernization program that features a new main lobby, café upgrades, collaboration space, upgrades to fitness center, improved landscaping with outdoor seating, and a new golf putting green.
Tisbert said, "It's no surprise that tenants of all sizes and from a wide variety of industries are attracted to One & Three Burlington Woods. In addition to offering a number of highly sought after on-site amenities, Burlington's growing live-work-play environment is unsurpassed with world renowned retail, hotels, restaurants and more."
Griffith Properties, LLC is a real estate investment firm that employs extensive operating and investing experience to provide investors an attractive risk-adjusted return. Griffith invests in core-plus and value-added office, industrial and R&D assets located in the Boston and Washington DC markets.
Artemis is a real estate investment management firm that invests with best-in-class local operating partners, both established and emerging, in multifamily, office, industrial, retail and senior housing across opportunistic, value add and enhanced core strategies. Artemis has raised approximately $2 billion of investor equity in two distinct lines of business: two opportunistic commingled funds and an emerging manager focused separate account. Artemis's sole focus is U.S. commercial real estate.
JLL is a professional services and investment management firm offering specialized real estate services to clients seeking increased value by owning, occupying and investing in real estate. A Fortune 500 company with annual fee revenue of $5.2 billion and gross revenue of $6.0 billion, JLL has more than 280 corporate offices, operates in more than 80 countries and has a global workforce of more than 60,000. On behalf of its clients, the firm provides management and real estate outsourcing services for a property portfolio of 4.0 billion s/f, or 372 million square meters, and completed $138 billion in sales, acquisitions and finance transactions in 2015. Its investment management business, LaSalle Investment Management, has $59.1 billion of real estate assets under management. JLL is the brand name, and a registered trademark, of Jones Lang LaSalle Incorporated. For further information, visit www.jll.com.