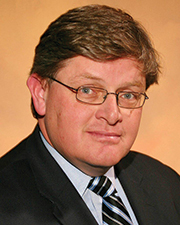 Wareham, MA James Kane, COO of the A.D. Makepeace Co., has been promoted to president and CEO of the company. Kane will replace Michael Hogan, who will shift to direct the company's Redbrook operations in Plymouth as president and CEO of Agawam Development Company, LLC. Hogan will continue to serve on the Ocean Spray board of directors.
Kane has been with the A.D. Makepeace since September, 2005, serving in a variety of senior roles before assuming his current responsibilities in 2018.
Most recently, he managed the transition of Read Custom Soils into a fully integrated division of A.D. Makepeace.
Kane and Hogan previously worked together at MassDevelopment, where Hogan was president and CEO and Kane was chief operating officer. Before that, Kane served as chief of operations for the Massachusetts Turnpike Authority.
He serves as chairman of the Massachusetts Maritime Academy Board of Trustees and is an elected selectman in the town of Shrewsbury, where he resides with his wife, State Rep. Hannah Kane, and their three children.
The management transition occurred on October 1, and was approved by the company's board of directors in July.
Hogan's focus on Redbrook comes at a time when the new village in South Plymouth achieves significant milestones, with the opening of 184 rental apartments and the village's second commercial building, and the sale of 300 homes. Ultimately, Redbrook will include some 1,200 residences in a variety of styles and price points, along with up to 90,000 s/f of commercial space.